Conquering Golf: The Gael Quesada Story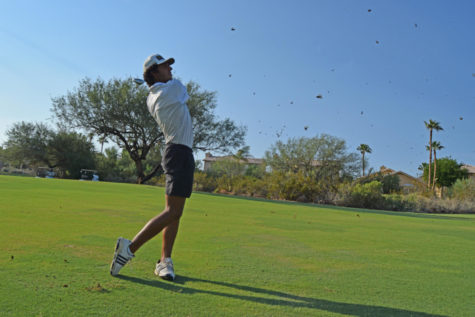 Babe Ruth, Michael Jordan, Lebron James: athletes like these play the entirety of their lives to become the best at what they play. Rarely does 'a Tiger Woods' come to fame who picked up their sport later in their lives and still dominated at the youth level. This not only takes tremendous athletic talent, but also the best of work ethics and humility. This rare combination of qualities has guided one of Sunnyslope's own Golfers to unbounded success. 
"He's one of the best golfers now," said Golf Coach Joshua Wozinicki, "that I've ever coached." 
Senior Gael Quesada just recently made the state golf tournament after dominating the 2022 season, but his road to this place was quite surprising. 
"When I was in my freshman year he was actually very bad," said Junior Maddox Rieman, "but, he put in a ton of work over the summer and got really good."
Quesada, who put in 4-5 hours a day during summer, has made himself into one of the best golfers in the state of Arizona over the past year, but hard work isn't the only thing that got him there. 
Woznicki said that Quesada is never afraid to ask others for help and he "got a job at a golf course just so he could be around golf and play for free."
Indeed, Quesada has the dedication and the work ethic of a professional athlete, and this isn't something that he only applies to golf. 
"It definitely brings out the best out of you if you push that mentality into everything you do," said Quesada, "because once you start seeing success in golf, you kind of want to put it into other areas of your life." 
Quesada really is a case of hard work pays off, but what he has done to get himself to state is nothing short of amazing.
Quesada, who did not take golf seriously until last winter, said, "I started getting pretty good pretty quickly, so I just decided to really grind on it and try to get to that next level."
This massive jump from mediocrity to stardom is rarely ever seen, especially for a sport that requires years of practice to master, so the fact that he is now one of the most skilled golfers in Arizona goes to show what some simple hard work can do for you. 
"As a coach I'm just so proud of what he's been able to do," said Woznicki, "It's very impressive and I mean he really has worked super hard – it didn't just happen by accident."
Often times when someone really wants something they may give partial effort or none at all and they will fail and not achieve what they want, but Quesada has shown if you really put in the effort and put your mind to it you can actually do anything you want to do. 
Now that Quesada has turned himself into a generational golfer he has punched himself a top spot in state, and Wozinicki said he "has a really good chance to win the whole thing". 
The Golf team has high expectations for Quesada at state, and he is trying his best to not let the pressure get to him. 
Going to the tournament just to say he made it there isn't Quesada's goal and he said, "I'm going there to win and I have an entire plan right now for every hole and every single shot, but its just a matter of executing."
Quesada has started from nothing and turned himself into one of the premier high school golfers in the state of Arizona, and almost everything he has accomplished is thanks to the work he has put in.
Now that the state tournament is over, as is his high school golf career, and Quesada finished 32nd he now has to look forward to his future and hopefully college golf will be part of it. 
The state tournament is ready for Quesada to take, and he is ready and prepared to take it. 
Your donation will support the student journalists of Sunnyslope High School. Your contribution will allow us to purchase equipment and cover our annual website hosting costs.