Viking Views Provides a Ballot Breakdown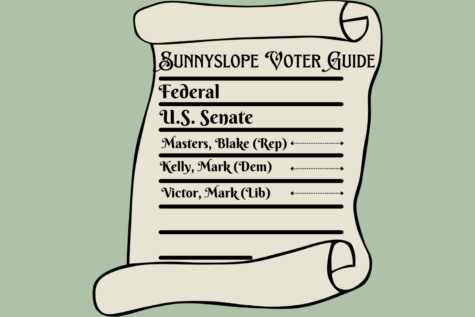 Your. Vote. Matters. The General Election is on November 8, 2022. If you are new to voting, here is a guide to help you understand who is running for what positions and the propositions on the ballot. 
Propositions: 
Prop 128 – Allows the state legislature to amend a ballot measure if the Arizona or U.S. Supreme Court determines that it contains illegal or unconstitutional language.

Prop 129 – Limits a ballot initiative to a single subject and requires that subject be expressed in the title.

Prop 130 – Consolidates four sections of the Arizona Constitution regarding property taxes and allows exemptions for veterans with disabilities, widows, and widowers.

Prop 131 – Creates a Lieutenant Governor position in the state Executive Branch. The Lt. Governor candidate would run on a joint ticket with the governor candidate and succeed the governor in his or her permanent absence.

Prop 132 – Requires ballot measures that would increase taxes to secure at least 60% of the vote to pass.

Prop 209 – Puts restrictions on medical debt collection practices. Supporters say it will relieve the heavy weight of medical debt. Opponents say it will shift the debt to taxpayers and make it harder to access credit.

Prop 211 – Requires certain private organizations to reveal their donors while allowing those traditionally supportive of the opposing political position to remain undisclosed. The likely unconstitutional initiative opens certain donors to harassment. 

Prop 308 – Allows any student, regardless of immigration status, who is educated in Arizona for two years to attend taxpayer-funded colleges and universities at in-state tuition rates.

Prop 309 – Requires all Arizona voters, whether they vote in person or by mail, to show valid identification.

Prop 310 – Increases sales taxes by 0.1% to raise nearly $200 million to fund fire districts statewide.
Federal
U.S. Senate:
Mark Kelly (Democrat) – Kelly was a NASA astronaut before his entry into politics in February 2019. He defeated McSally for the Senate seat in 2020 after McCain's death in 2018. Kelly supports Social Security and Medicare, reduction of tax breaks for the wealthy, help with student debt through lower interest rates, increased teacher pay, Deferred Action for Childhood Arrivals (DACA), and strengthened border security.

Blake Masters (Republican) – Masters is a former venture capitalist who was on the executive board of the Thiel Foundation until March 2022. Masters wants to use high-tech gadgets to surveil the border, increase Border Patrol and finish building the wall to increase border security. Additionally, he wants to crack down on crime, increase military support, oppose teacher unions, promote alternatives to college, control immigration based on merit and increase nuclear power. He also wants to remove funding that goes toward abortions and increase support for pregnant women. Masters initially called for the overturning Roe v. Wade but changed his stance after the August primary to being "OK" with banning abortion after 15 weeks.

Marc Victor (Libertarian) – Victor served in the Marine Corps from 1985 to 1992. His career experience includes working as a criminal defense attorney. Victor has been affiliated with the Live and Let Live Foundation. Victor advocates for non aggression, and his top priority is peace. He's campaigning on what he calls a new approach to politics. His biggest concerns are global in nature: nuclear war, synthetic biology, artificial intelligence, energy, climate change and international economic systems among them. 
U.S. House of Representatives (Sunnyslope's District 1):
Jevin Hodge (Democrat) Hodge is the leader of Booker T. Washington Child Development Center, the longest running Head Start in Arizona. His top priorities include climate change, income inequality, health care, education, and voting rights. 

David Schweikert (Republican) Schweikert has been a Representative since 2011. His platform runs on economic growth, protecting freedom, reducing taxes, and stopping illegal immigration.
State
Governor:
Katie Hobbs (Democrat) – Before entering politics, Hobbs worked as a social worker and ran a domestic violence shelter. She became Secretary of State in 2018. Her campaign runs on abortion and reproductive rights, improving education, supporting tribal communities, climate change, immigration reform, increasing job opportunities, and government transparency.

Kari Lake (Republican) – Before running for governor, Lake worked as a news anchor for Fox10 News Phoenix. Her platform is called Arizona First. Endorsed by former President Donald Trump, Lake believes in secure borders, energy independence, safe streets, pro-life policies, pushing back against the Biden agenda, and preserving the western heritage in Arizona.
Superintendent of Public Instruction:
Kathy Hoffman (Democrat) – Hoffman was elected State Superintendent of Public Instruction in November 2018. She has spent her entire career working in public education, first as a preschool teacher and then as a speech-language pathologist. Hoffman is focused on growing Arizona's educator workforce through targeted recruitment and retention efforts, increasing funding and access to critical social emotional learning resources, expanding digital connectivity, supporting Arizona's multilingual learners, and elevating the voices of Arizona's educators.

Tom Horne (Republican) – Horne was Superintendent from 2003 to 2011. He wants to fight critical race theory, stop cancel culture, promote patriotism, and quality education and learning. Horne is also focused on putting an end to ethnic studies, bilingual education, keeping students in school, enforcing graduation requirements, a state takeover of failing schools, and offering more merit scholarships.
State Treasurer:
Martin Quezada (Democrat) – Quezada was a member of the Arizona House of Representatives, as well as the Arizona Senate. Alongside politics, he is an attorney. Quezada's focus is hiring the right experts to work in the Treasury. After that, he intends to focus on building working relationships with other statewide elected officials, as well as county treasurers.

Kimberly Yee (Republican) – Yee was the first Asian American candidate to win statewide office in Arizona when she was elected State Treasurer in 2018. She  wants to bring in fiscal experts and elected officials to understand where taxpayer money will go. Yee also wants to work to combat inflation rates and invest taxpayer funds. She wants to continue her work and help Arizonans become more financially literate.
Attorney General:
Kris Mayes (Democrat) – Mayes is a former journalist and current attorney. She was an Arizona Corporation Commissioner and Chair in the statewide office where she served from 2003 – 2010. She wants to protect voting rights, security, minority groups, the environment, and rights to reproductive choice. 

Abraham "Abe" Hamadeh (Republican) – Hamadeh was an intelligence officer in the U.S. Army Reserve. He is focused on strengthening border security, reducing the cost of living, upholding the Second Amendment and pro-life policies, and ending the war on police. 
Secretary of State:
Adrian Fontes (Democrat) – Fontes is a veteran of the United States Marine Corps. He was a prosecutor with the Denver District Attorney and at the Maricopa County Attorney's office. He was the Maricopa County Recorder. Fontes is committed to preserving integrity in elections, increasing transparency in the Secretary of State's office, making voting easier for registered voters, and ensuring that Arizona's business community has a partner in the Secretary's office.

Mark Finchem (Republican) – Finchem was a member of the Arizona House of Representatives. His campaign highlights former president Donald Trump's endorsement and his response to the 2020 presidential election. Finchem said he would support law enforcement, clean the voter rolls for accuracy, prosecute fraud, secure Arizona elections, increase transparency, communicate with voters, and count all legal votes.
Arizona Senate (Sunnyslope's District 5):
Lela Alston (Democrat) – Alston is running for re-election. She focuses on issues including: civil rights, climate change, education, economy, health care, and defending democracy.

Jeff "J.B." Silvey (Republican) – Silvey's main concerns are: economy and inflation, national debt and unfunded liabilities, protection of individual liberties, the overreach of the federal government, and preservation of national sovereignty.
Arizona House (Sunnyslope's District 5):
Jennifer Longdon (Democrat) – Longdon is running for re-election. She is passionate about reproductive rights, gun control, education, economy, and health care.

Dr. Amish Shah (Democrat) – Shah is running for re-election. His platform runs on education, health care, and democracy.

Jennifer "Jenn" Treadwell (Republican) – Treadwell advocates for strong schools, safe communities, and economic prosperity.
Your donation will support the student journalists of Sunnyslope High School. Your contribution will allow us to purchase equipment and cover our annual website hosting costs.