Viking Pride Band Takes 1st in Tucson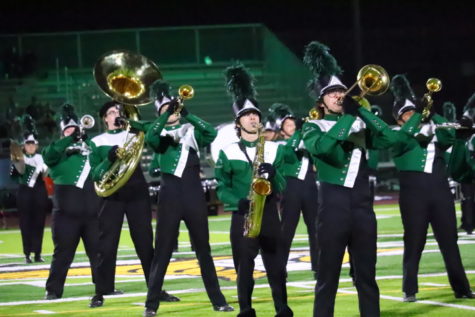 The Viking Pride Band grabbed 1st place at the annual "March The Ridge" competition held at Ironwood Ridge High School on October 22.
Band members must attend zero hour, where they practice from 7 a.m. to 8 a.m. and participate in Tuesday night practices to prepare for these competitions.
While at these practices they are making sure to concentrate and get every step down before competitions and performances.
Senior Lucas Hernandez said, "We perfect our step timing, the formations we create on the field, and the overall sound of our show."
Even after winning the competition, The Viking Pride Band doesn't stop.
They make sure to listen to the judges' critiques and continue to work to get better in the areas where they saw mistakes.
Junior Jeffrey Takeuchi said, "We listen to the judge tapes after we get them and go over the tape and watch who messes up and when."
Even with the minor mistakes made, they still got 1st place and they are hopeful for the future.
Hernandez said, "We did score better than we have in previous years, but there were small mistakes that can be easily fixed. I am sure our future practices will smooth out these bumps with no problem and our performance score will increase even more."
Not only has Sunnyslope been able to display many trophies thanks to the marching band competing, but competitions have also been able to help them grow throughout the year.
Hernandez said, "Beyond scores and trophies, these competitions help to unite our band and help us to work as a team."
The marching band usually only has a couple performances a year and they commonly take place around late October and early November.
Takeuchi said, "We have around three a year."
Even though the marching band is highly concentrated on the competitions they have fun competing with each other and showing off their amazing talents.
Herndandez said, "I enjoy the friends I have made along the way. Competitions and football games are fun not just because of the music, but because of all the people I get to interact with."
Takeuchi said, "I like performing because there isn't really a feeling close to putting in the hardwork and having a good performance."
They bring spirit to all Sunnyslope events and continue to improve their competition scores.
Your donation will support the student journalists of Sunnyslope High School. Your contribution will allow us to purchase equipment and cover our annual website hosting costs.