Taylor Swift's Record Breaking Return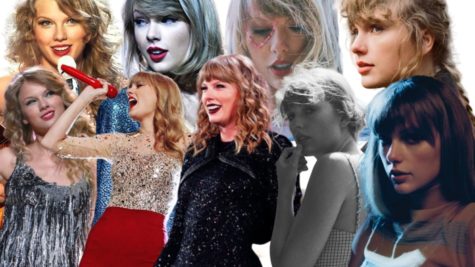 There is no doubt: Taylor Swift is becoming one of the most influential and popular artists of our generation. 
Following the release of her 2019 release of her album "Lover" Swift went on to create two more albums (both containing 17 new tracks), "Folklore" and "Evermore" in 2020 during the lockdown period. 
But she didn't stop there – in late 2021 Swift went on to release "Red – Taylor's Version" which is a re-recording of her 2012 album "Red."
This album contained not only all of the songs from the original "Red," but bonus tracks along with the highly-anticipated "All Too Well (10 minute Version)," following with the "All Too Well" short film that now has over 77 million views on Youtube. 
After these releases, the fandom expected nothing more from Swift, but to all of our surprise, she announced her all new album, "Midnights" during her speech at the 2022 VMA's. 
What makes the release of this album so exciting for the fandom are the Easter eggs (which is no surprise coming from Taylor) that she releases during the weeks preceding her album release. 
"Midnights Mayhem With Me" is a new short series that Swift created in which she revealed the track names to each of her songs on "Midnights" before the release of it. 
Since Taylor is known for her Easter eggs' during her album releases, this mini series drove her fans crazy. 
Even the smallest changes in each of the videos – whether it be a phone upside down, or a secret message encoded in a certain place – would lead fans to conspire over these easter eggs and come up with wild conspiracy theories about the album. 
Some people conspired that whenever a phone was upside down in a video, it meant there would be a featured artist on that track she announced. 
While that conspiracy was wrong, it wasn't far off.
During one of the final episodes of "Midnights Mayhem With Me," Swift announced that track 5, called "Snow on the Beach", would be featuring Lana Del Rey.
Taylor fans and Lana fans alike were ecstatic at this news – and with both these artists being integral parts in many of these fans' childhoods – it was something that people have been anticipating for years. 
And to all of our surprise, after Swift dropped "Midnights" on October 21st at midnight, three hours later she released "Midnights 3AM Edition" with seven new tracks – making the complete album contain 20 new tracks.
On Swift's latest Instagram post revealing these special tracks, she explains how, "There were other songs we wrote on our journey to find that magic 13… Lately I've been loving the feeling of sharing more of our creative process with you… So it's 3AM and I'm giving them to you now."
Following the release of 3AM edition, Swift immediately put out the music video for "Anti-Hero," and later released the music video for "Bejeweled" on October 24th.
As if that wasn't enough, after Taylor accidentally released tour information on her UK website and said "I think I should do it" in response to Jimmy Fallon addressing tour rumors, fans suspected that Taylor might go back on tour following the release of this album. 
With Taylor's last world tour being after her release of the album "Reputation" in 2018, many fans assumed that was the end of the road for her touring era – making this "Midnights" tour rumor so much more special. 
And on November 1st, Taylor did it again – she announced her new US tour called, "The Era's Tour", in which she would perform songs from all of her albums throughout the years.
With openers from Paramore to Phoebe Bridgers, fans are overjoyed with this news – and with all the hype surrounding getting tickets – this may leave Taylor Swift with another sold out US tour.
In usual Taylor Swift fashion, she went on to break numerous records in only the first few days after the release of the album. 
Midnights became Spotify's most-streamed album in a single day, and Swift herself broke the record for the most-streamed artist in a single day in Spotify history.
She also went on to break the record for most sales for an album release ever in just one day – earning more than 1.2 million equivalent album units in the U.S. through its first three full days of release.
The childhood favorite artist of many is making her comeback with the release of this album, giving Swifties and non-Swifties alike the most content she can while entering this new era of music. 
Your donation will support the student journalists of Sunnyslope High School. Your contribution will allow us to purchase equipment and cover our annual website hosting costs.