Not Foolin' Around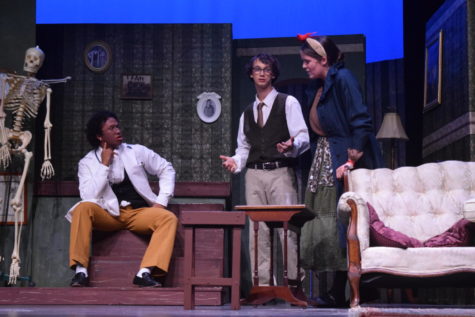 Comedy can erupt from many sources. From the people around us and our own funny home videos, to comedians, authors, and actors we see on television or read in print.
No matter where it stems from, everyone needs a little chuckle now and then.
This fall, Sunnyslope High School's theater program put on their production of Fools by Neil Simon and these actors were far from foolish.
Right from the beginning the actors embed the audience into the performance, making it seem as if they are part of the scene. 
By giving little monologues and expressing joy and giving insight on their applause, the audience was part of the performance.
Along with that, the set is exceptional with amusing signs, a cozy feeling home, and attention to every detail from the paintings to the clocks. 
It was clear that this performance was more than just the story; it was the set, and its designers, and the lighting, the sound design, and all the other behind-the-scenes work that went into Fools.
The story takes place in a small town in Ukraine, following the story of Leon Steponovich Tolchinsky, a young school teacher looking for his first work opportunity.
The town of Kulyenchikov is peculiar in the fact that all of the town's folk are, well, a little foolish.
Tolchinsky is tasked with educating Sophia Zubrinksy in order to lift the curse of foolishness off of the town.
When he meets her for the first time, he is eager to spend more time with her and educate her, seeing as she can not feel love whilst the curse is still upon her.
With only 24 hours to educate the young girl, Tolchinsky looks for loopholes in the curse and ways to deceit Gregor Mikhailovitch Breznofsky Fyodor Yousekevitch, the villain of the story and caster of the curse.
With a love story similar to the classic Romeo and Juliet, humor similar to that of Dr.Suess, and a set design that transports you into the story itself, this Fools performance was artfully designed to entertain the masses. 
It was clear that everyone, from the director and actors and crew, were excited to show all their hard work and were excited to see the reaction of the audience to their well thought out show.
"There's no fool like a new fool," and these students were not foolin' around.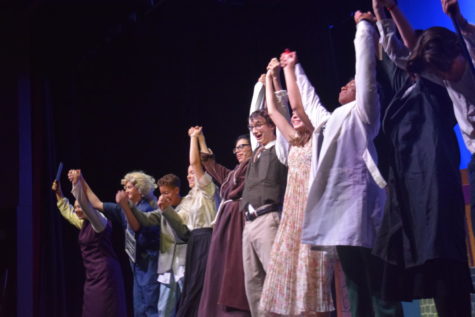 Your donation will support the student journalists of Sunnyslope High School. Your contribution will allow us to purchase equipment and cover our annual website hosting costs.