Sunnyslope's Newest Clubs Unlocks Members' Medical Aspirations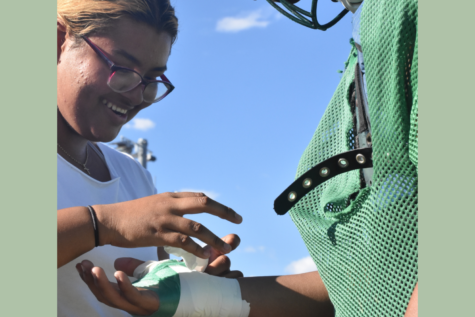 According to an article on the history of HOSA, the original motto, submitted by the Florida State Association of HOSA, is "The Hands of Youth Mold the Health of Tomorrow."
The true purpose of HOSA is to take students through the necessary steps to build a better future in health care. 
"If health occupations are a passion for you, you can be a member of HOSA." said HOSA Club Advisor Pandora Linnartz. 
Sunnyslope's new club is preparing kids for a future in medical care. 
HOSA is the Health Occupations Students of America.  
The club time and meeting place varies.
HOSA is a great opportunity for students at Sunnyslope to prepare for their futures.
Linnartz said, "If students are involved in HOSA, it's usually because they want to go into some kind of medical or health professions, so it exposes them to opportunities for learning education, but also scholarships and just a lot of outreach to partners."
Many high school students don't know what their future plans are, so it is helpful to have clubs and classes that help provide some insight. 
Junior, Shawn Hilker, a HOSA member, said, "The class is a lot more structured than the club, but in the club you get to test all the things you learned in class."
Including both a class and a club is beneficial for kids who are not able to stay after school.
Linnartz is passionate about students in the class/club getting the knowledge and opportunity needed to succeed. 
Linnartz said, "I think I'm seeing a lot of kids get exposed to career or education possibilities that they maybe didn't think of before."
HOSA is just starting, but there have already been many chances for scholars to get a feel for it. 
Linnartz also said, "Some of the students in HOSA have just recently been CPR certified. There are some competitions that they're thinking of taking part in for the spring, but we're still working on that." 
These competitions are particularly exciting for some. 
Hilker said, "I chose to join because I can get scholarships and I want to compete in the medical competitions." 
The club is great to prepare students for their future professions.
Senior Avery Magnuson, HOSA president said, "I joined HOSA because I want to pursue a career in health care.
While it is helping members plan ahead, it is also a way for students to meet others who have similar interests.
Having a good relationship with those who share their passion is important for students to prepare for a professional career. 
Magnuson said, "I love getting to learn more about each one of our members and getting to participate in events as a chapter."
This group gives amazing opportunities including scholarships, friendships, and new knowledge. 
Your donation will support the student journalists of Sunnyslope High School. Your contribution will allow us to purchase equipment and cover our annual website hosting costs.