Musk's Twitter Unravels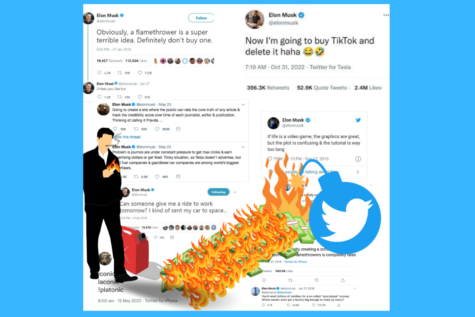 Elon Musk, the wealthiest man in the world, bought Twitter in April of 2022 and since then, it has been a steady downfall because of his pivotal changes to the app like Twitter Blue and mass layoffs. 
Twitter has been losing money for the past couple of years: "Twitter posted a net loss of $221 million in 2021, an 80% reduction on the $1.1 billion loss it reported in 2020" according to the Business of Apps in 2022. 
Because of this, it was a surprise when Musk showed interest in buying the company, but he ended up buying it for $44 million, which many say is overpriced and Twitter is actually worth closer to $25 million. 
Since Musk bought the company, he has implemented many new changes for users of the app.
One of these products is Twitter Blue. 
Twitter Blue allows users to pay 8 dollars a month to have the coveted blue verification check. 
Initially, this idea was to "bring power to the people" tweeted Musk, allowing smaller, less influential users to have an easier way to get their voices known; however, this allows any account to have the once coveted blue checkmark that used to show authenticity. 
However, this makes it much easier for trolls on the app to spread misinformation under the disguise of a verified account; they merely need $8 to buy credibility.
Before Musk, it took lots of verification to be issued the blue checkmark. 
It was only given to known businesses, political leaders, government agencies, and celebrities, and these individuals needed to produce government-issued IDs to Twitter in order for them to be verified creator on the app. 
Twitter Blue did not have any of these verification steps and allowed many users of the app to change their name to one of a big company or creator and have the blue checkmark and tweet as that person or brand. 
Eli Lily and Company was one of the brands that experienced this trolling.
Eli Lily is a pharmaceutical company who makes billions of dollars every year from selling insulin. 
One fake tweet — under the disguise of a verified Eli Lily account said"We are excited to announce insulin is free now."
The fake tweet was viewed millions of times before Twitter took the tweet down six hours later. 
This caused Eli Lily to stop all ads on the app making Twitter lose out on millions of dollars in ad revenue.
Compared to other ventures like Facebook and Google, Twitter ads have never had as much influence according to Jenna Golden, a former Twitter advertising consultant. 
Twitter has never been a "must have" for advertisers so the Twitter blue incident had many big brands pulling out of having their ads on Twitter, costing the app millions. 
This, plus Musk's mass firing has caused Twitter to be the spark of conversation in the social media world. 
Twitter sent a company-wide email explaining that Twitter is "reducing [their] global workforce on Friday." 
Many of the layoffs were employees under the moderation team. 
Melissa Ingle, a Twitter contractor was one of the many employees fired by musk and stated "I love the platform and I really enjoyed working at the company and trying to make it better. And I'm just really fearful of what's going to slip through the cracks." 
Civil rights groups on the app are pressuring advertisers to pull out of Twitter saying that Musk's lack of moderation will allow Twitter to be a place of hate speech. 
The Washington Post said, "more than 50 organizations sent a letter to Twitter's top advertisers asking them to consider pausing spending if Musk went ahead with the planned cuts." 
So far, Musk's changes to the app have had bad effects on Twitter overall. 
Musk has also been getting a lot of backlash from Twitter creators about how he is ruining the app, but he seems unbothered by it all.
Your donation will support the student journalists of Sunnyslope High School. Your contribution will allow us to purchase equipment and cover our annual website hosting costs.