Witnessing the Downfall of Ye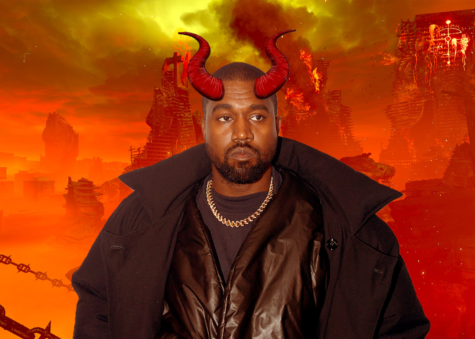 Imagine building an empire for yourself: millions of dollars, iconic pieces of art, and worldwide clout.
Now, imagine all of that evaporating due to an idiotic, dumbfounded belief that you repeated. 
This is the current reality for Kanye West.
Since 2004, Kanye West, otherwise known as Ye, has solidified himself as a trailblazer in Hip-Hop and is arguably one of the most influential artists of this generation. 
As senior Levi Morales said: "Have you heard Graduation?"
Throughout his career, his brand has become monumental with a net worth of $2.2 billion according to Forbes, however, much of this is thanks to his collaboration with Adidas for his shoe line Yeezy. 
Unfortunately, Ye's notoriety in recent years has been associated with his controversial actions rather than his artistry. 
From claiming that "slavery was a choice" in 2018, to running for President of the United States in 2020, to calling out his ex-wife, Influencer Kim Kardashian on social media over familial problems, many people have already opened their eyes to the type of person that Ye has proven himself to be.
Early October, however, he decided to go on yet another social media rant after receiving backlash for creating "White Lives Matter" shirts and sporting them with Prominent Conservative Figure Candace Owens.
Instead of acknowledging his outlandish behavior, Kanye doubled down and tweeted that he would go "Defcon 3 on JEWISH PEOPLE" because he claimed they "blackball anyone [who] opposes their agenda."
Ye's tweet perpetuates unfounded long-standing antisemitic beliefs against the Jewish community and gives legitimacy to white supremacists who now claim to be Kanye supporters due to these shared viewpoints.
Since then, he has not only stood by his remarks but also claimed that George Floyd died due to Fentanyl rather than police officer Derek Chauvin, whose "knee wasn't even on his neck" according to West.
All of this has resulted in a $250 million lawsuit against Ye from Floyd's family, as well as severed relationships of his former sponsorships with Gap, JP Morgan, Balenciaga, Vogue, and more.
Now, after years of growing up to Kanye West's music, many fans like Morales are upset to see how he is tarnishing his legacy.
"It's pretty bad," Morales said, "I think he needs to apologize and I think it was right for his sponsorships to be taken away."
After over a year of social media tirades, this seems to be the final nail in the coffin for Ye.
"Before this, I just thought he was crazy," said Senior Emma Carrizosa, "but now I think he is just awful."
But given West's persona, Carrizosa wouldn't be surprised if he was simply doing this for attention.
"Why does he say those things? It's obviously going to make a lot of people mad, and I think that's why he says it. I don't know if he believes it, because if he does then he truly is awful," said Carrizosa.
As millions of people witnessed the comments Ye was making, the pressure was on Adidas– a company founded by members of the Nazi party– to condemn his hatred and discrimination after a photo surfaced on the internet of people hanging a sign that said "Kanye is right about the Jews" above a Los Angeles freeway. 
On Tuesday, October 25, 2022, Adidas released a statement condemning Kanye's actions and announcing that they would cut ties with him, leading to an estimated net worth of $400 million without Adidas. 
As for Yeezys, the designs are owned by Adidas but the name is owned by Kanye, meaning it would be possible to present them with a different name in the coming future.
While many have been quick to recognize West's problematic comments and condemn them, some of his fanbase on Twitter have claimed that this is all part of his plan to cut ties with major corporations, like Adidas and JP Morgan. 
These seem to just be fan theories, however, as it was reported that he was escorted out of the headquarters for Skechers– a Jewish-owned company– after he showed up uninvited to discuss moving his Yeezy brand there.
But with so much hatred and misinformation coming from one of this generation's most beloved rappers, many Vikings are now left feeling conflicted about whether they can separate the art from the artist. 
"I don't follow his Twitter, so I'm just going to listen to the music," said Morales.
As for Carrizosa, he won't be on repeat, but it's hard to let go of the music she grew up loving. 
"I'm not gonna lie I might listen to him in secret," said Carrizosa, "but he will not be appearing on my top ten this year."
Regardless of whether or not one can separate the art from the artist, it is truly sad to see the downfall of one of the biggest icons from the early 2000s. 
However, antisemitism, white supremacy, misinformation, and racism have no place in today's world and with Ye's platform, he can be a dangerous enabler for millions to spread these beliefs.
Ye must be condemned and receive consequences for his actions because if not, it allows these beliefs to be echoed and mimicked, which will lead society down a very dark path. 
Your donation will support the student journalists of Sunnyslope High School. Your contribution will allow us to purchase equipment and cover our annual website hosting costs.