Slope Seniors Take Disneyland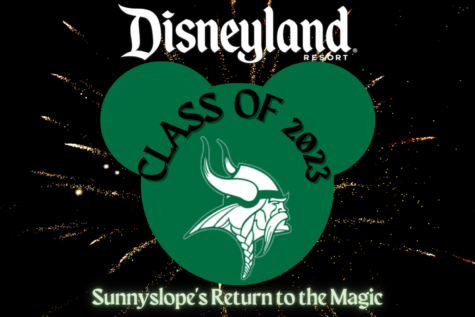 All 2023 grads are invited to this year's Disneyland Grad Trip!
This exciting opportunity is making its first return since we entered DLS at Sunnyslope.
The trip is on May 22nd, the night of graduation.
Sign ups are on February 3, 10, 17, and 24.
Tickets include admission to Disneyland park and California Adventure and will cost $225.
You can pay cash, credit card, or write a check to Viking Parent Club. 
Field trip check-ins will occur at 11:45 pm in the Sunnyslope Cafeteria and buses will leave for Disneyland around Midnight. 
Students will spend the entire day of May 23rd at Disneyland and board buses to come home after it closes.
"Seniors must graduate to attend the Disney Grad Trip, but do not have to walk at graduation to go," said PE Coach Amber LeTarte.
There will be no specificity on where and who you can go with, as long as you stay in the parks.
"I think it's a cool opportunity," said Senior Aiden Johnson.
Water and snacks will be provided; students should bring enough money for any other food or souvenirs to purchase at Disneyland. 
According to previous Disneyland Grad Trips, snacks (ice cream, churros, fries, etc) cost around $3-5, drinks cost around $2-3, and meals cost about $6-9 a person, but can be as high as $11-15 at the sit-down restaurants.
Small bags or backpacks will be permitted with full disclosure that each bag will be searched and tagged prior to boarding the buses.

"It's a great trip to take with friends to celebrate the year," said LeTarte. 
For questions or more information, email Amber LeTarte at [email protected] or Sarah Schlesinger at [email protected]