Tim Burton's 'Wednesday': A Global Phenomenon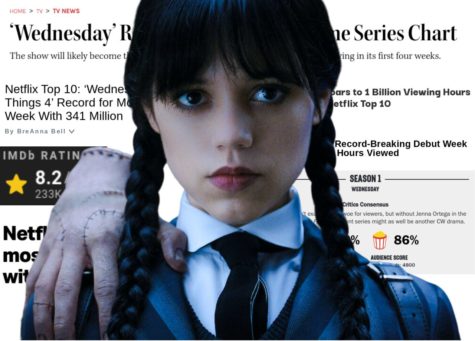 From Tik Tok dances to press conferences, Netflix's latest television series has become a global phenomenon in less than a month. 
On November 23, 2022, Tim Burton's newest project "Wednesday" was released – a short series following the challenges and often morbid life of the infamous Wednesday Addams from the Addams family.
Though we know the darkening humor and ghoulish personality of Wednesday, we have never explored the life she truly leads, making this show more of a mystery than fans may have thought. 
In typical Tim Burton fashion, the show explores the complexities of this character with once in a lifetime performances, and impressive uses of directing and cinematography – consequently resulting in him producing yet another award winning project.
With performances by Jenna Ortega, Gwendoline Christie, Luiz Guzman, Catherine Zeta-Jones, and Christina Ricci (a Wednesday we have seen before) – this cast is sure to not disappoint. 
And disappoint it did not. 
With over 341 million hours streamed in the first week of its release, the show surpassed the record of the 4th installment of "Stranger Things" most previously held, making Wednesday the most streamed show on Netflix in only the first week. 
Now, after a month, the show has surpassed 1 billion streams – putting it at the 3rd most watched television show in Netflix history. 
In addition to that, the actress who plays Wednesday – Jenna Ortega – was nominated for a golden globe for her performance in the show.
However, given these impressive statistics, there has surely been some mixed reviews and dissenting opinions on the series – especially from the students at Sunnyslope.
And with such a famous character and legacy of adaptations, there was sure to be backlash on the way Wednesday was portrayed and expressed throughout this show, as it may not have met the expectations of super fans and/or new viewers alike. 
Junior Mia Aronsohn said, "I didn't enjoy Wednesday as much as I thought I would. I had high expectations given that Tim Burton directed it, but the whole series felt very 'Netflix-y'."
Other students beg to differ. 
Senior Alden Mattingly-Dawson said, "I loved the show. Though it wasn't 'fantastic' – it was funny, entertaining, and had a lot of great characters… I watched the whole series in two days!"
"The thing I loved most about the show was the cast, everyone did an amazing job conveying their characters and you could tell they had great chemistry together on screen," said Mattingly-Dawson. 
Given the huge relevancy of the show and the amount of audiences it reached, it was destined to get mixed opinions despite the popularity of it. 
Regardless, in response to the show's rising popularity, the creators just recently announced that Netflix has renewed the show for a season 2.
With the show leaving off season 1 on a cliff-hanger, it left fans on the edge of their seats – wanting to know more about Wednesday Addams more than ever before.