"I won't be home for the holidays": Latest Southwest Airlines Meltdown Ruins Travel Plans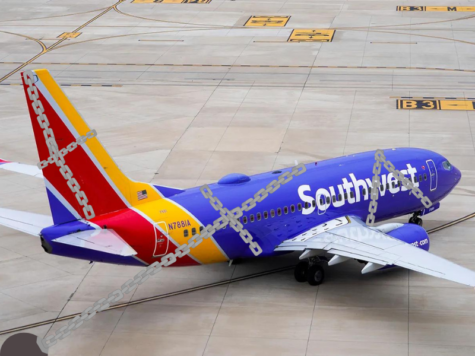 With over 16,000 flights canceled ‌thousands of people were stuck in the busiest travel period: the holiday season.
Sunnyslope students and staff traveled over winter break, with some traveling experiences better than others due to the Southwest Airlines chaos.
Freshman Gavin Tu said, "There was nowhere to sit at my gate because our gate was tucked in the back.There were not a lot of seats so I sat on the ground and our flight got delayed which wasn't ideal."
Half the flights were delayed or even canceled due to some unknown reasons. 
Biology Teacher Troy Linnartz said, "I got caught up in that horrible southwest debacle, my plane was canceled. I had to sleep inside the Chicago O'Hare Airport. It was very exciting."
People's flights got canceled multiple times– sometimes with little to no communication.
Sophomore Sasha Leon said, "I was planning to get there [Arizona] on a Saturday. My flight got delayed one time and moved it to Monday. Then from Monday, I got delayed to a whole other [flight] next Sunday.They didn't really tell us anything about rescheduling or delaying flights."
Along with the long waits, some students lost their luggage in certain airports.
Tu said, "Our flight's luggage was left outside and got really rained on with some people's luggage having to be taken to different areas, that's how they probably got lost." 
 People quickly switched airlines in reply to the Southwest problems being broadcast all over the U.S.
Junior Sarah Donat said that her family took a different airline in response to seeing all of the Southwest problems online causing her trip to be smoother.
The Southwest scandal wasn't completely solved and some people even got compensation for their canceled flights.
Linnartz said, "Well, it was overall good because I just got this email and Southwest just paid me my $1,400 back, so it ended up being free, even though it cost me a day."
The effects of this event are still ongoing but overall will be a difficult thing to forget when flying Southwest in the future.