Underlying Dangers of Fentanyl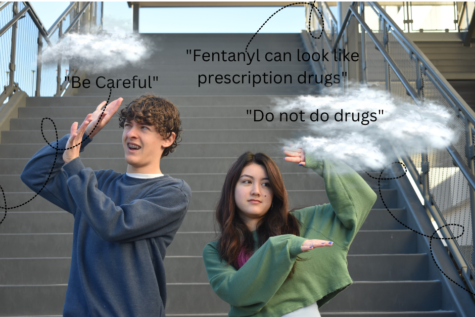 Fentanyl overdose is the the top cause of deaths in youths aged 6-19 in Pima County, despite continuous warnings, according to Tucson.com.
Even though dealers may intend to send their drugs throughout the nation, it is so prevalent in Arizona because of the Sinaloa Cartel in Sonora which borders the state.
Most fentanyl seizures, upwards of 95%, are done at ports of entry. 
Nogales, which is the main port of entry for the drug, is where most fentanyl seizures are made.
In December, there were numerous large seizures with more than 1 million seizures being made within 24 hours on December 21st and 22nd according to Tucson.com
Slope Senior Leslie Gonzalez Sanchez said, "it's important to learn or hear about it so that others can be aware of this dangerous drug and it may be a bore to hear about it but I guarantee that it'll help you and others around you in your community."
Even though awareness about Fentanyl is rising, it is still laced into other drugs and sold.
One problem is that it is hard for an average person, especially teens, to identify that the drug they are taking is laced with fentanyl when they buy from street sellers.
A recent email announcement from the Glendale Union High School District warned about Fentanyl due to its withstanding dangers in Arizona.
Senior Sylvia Rojas Rodriguez said, "As an adolescent, I believe the awareness of fentanyl is helping many children and teens understand the dangers and the consequences of the drug and I see it as a benefit for those who don't know as much."
Awareness is effective, but unfortunately most fentanyl incidents happen accidentally.
According to the Arizona Department of Health Services, fentanyl test strips have been found to be highly effective at detecting fentanyl in drug samples.
Any measure that we can take to prevent overdoses is necessary to protect people from overdose.
Senior Jalen Harvey said, "I feel that the awareness is helping somewhat, but just because improvement is being made doesn't mean that this should be a cause that's pushed aside. Only the more we bring awareness, the more recognition this problem will receive."
In most opioid overdoses, fentanyl has been found to be present.
Furthermore, fentanyl has proven to be the top of the top in drugs.
In fact, deaths from other drugs such as heroin and prescription drugs has dropped as a result of fentanyl.
It is advised to always know what you're consuming and to never take anything from someone untrusted.
According to a recent email announcement from the Glendale Union High School District, "Fake fentanyl is sold as a powder or made into pills that look like real prescription pills."
That being so, people can be easily tricked due to the false nature of fentanyl that looks like prescription pills.
The fentanyl crisis continues to be a problem even after awareness is raised, so it is best now to be careful.