Viking Reviews: The Glass Onion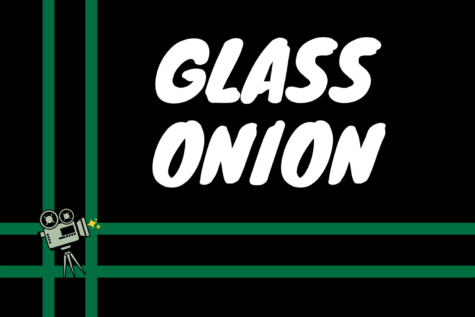 Peeling back the secrets of an ostentatious billionaire and his valuable inside circle to find the truth within a sea of deception and lies.
Glass Onion: A Knives out Mystery is the blueprint many movies need to follow when creating sequels to beloved films.
Glass Onion: A Knives Out Mystery follows Benoit Blanc, a world-renowned detective, when he finds himself in the center of a secret plot.
It combines a cast of eccentric characters with their own ties to tech billionaire Miles Bron.
Bron has his own ideas for his island weekend with his friends but his guests have their own prerogatives and Blanc must solve the mystery from the inside out.
Knives Out was the best movie in the mystery genre that came out within the last ten years.
It followed a wealthy family who just experienced a the gory suicide of Harlan Thrombey, the root to all the family's success.
Benoit Blanc, a world class detective, was mysteriously hired to try and solve the case.
It mostly focuses on family dynamics and the treatment of the in-house nurse, Marta, who knows more than she lets on.
Glass Onion is the second installment of the Knives out universe.
Like the 007 or Sherlock Holmes movies Glass Onion follows the same aesthetic of Knives Out but with a completely different storyline.
It only maintains one of the same characters, Benoit Blanc, but the setting, plot, and characters all differ.
In a time where every influential movie is either getting remade or added sequels and the entire industry seems like a money grab, Glass Onion was a breath of fresh air for the film community.
Rian Johnson has a distinct way of filming as he utilizes contrast and smart camerawork which keeps the audience guessing.
Plus Johnson has a way of adding a plot twist in the middle of a movie that changes the whole trajectory of the plot and forces the audience to rethink the entire movie.
You find yourself second-guessing what at first seemed like very basic scenes early on in the movie.
This tool is what makes Johnson's movies so captivating and enhances the essence of the Murder Mystery genre, but Glass Onion still does not top Knives Out.
Though Glass Onion has many redeeming qualities, its and mystery plot seem less thought out than Knives Out.
Many of Glass Onion's plot twist also seem like an easy way out and in incomparable to Knives Out.
If you want to enjoy the work of Rian Jonson I would recommend Knives Out because of its surprising plot and interesting characters.