AAA Honored at Board Meeting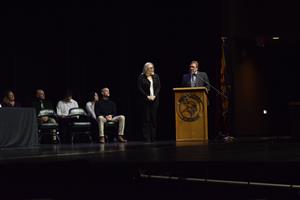 Sunnyslope Achievement Above All recipients were honored at the January 18 GUHSD school board meeting in the Kenneth E. Coffin Auditorium.
The Achievement Above All recipients were nominated and selected by the staff at Sunnyslope High School.
Awards were given to a faculty member, staff member, individual student, student group, and to a Sunnyslope volunteer.
English Learning Teacher Mike Brauer, Athletic Secretary Kathie Nunn, Senior Maddie Schlesinger, The Viking Pride Band, and Parent Volunteer Carrie Lifschitz all were praised at the meeting.