Satire: Pro-Life Spiderman Saves The Day!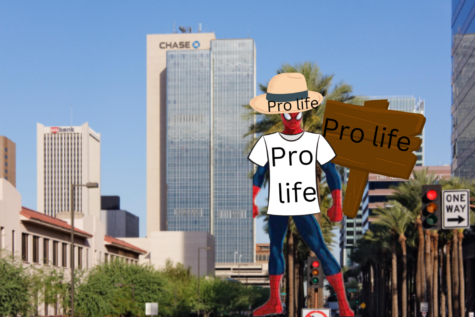 The hero dubbed 'Pro-Life Spiderman' climbed the Chase Tower on February 8 to protest abortions.
Maison DesChamps, the man behind the mask, has saved city after city from the terrors of abortion.
Phoenix was his latest stop after visiting San Francisco, New York City, and Detroit last year. 
DesChamps hoped that risking his life by free-climbing the tallest skyscraper in Phoenix would convince people to stop getting abortions. 
However, his powerful message did not resonate with the authorities; the Phoenix Fire Captain described DesChamps' actions as "stupid" and "dumb."
Clearly, they were not told of the safety of climbing a 40-story building without a rope or harness.
The authorities were waiting to arrest DesChamps at the top of the 483 foot tall building. 
Pro-Life Spiderman even said on his website, "I see climbing skyscrapers as a safe and creative/effective way to peacefully protest."
Anyone looking for new ways to protest should look to DesChamps for ideas.
An ideal future is the one in which everyone is climbing buildings to raise awareness to their cause. 
Besides, the protest clearly worked. 
His stunt saved many prenatal lives, as thousands of women across the state were convinced to cancel their abortion procedures.
Many were inspired to change their decision after hearing DesChamps' charismatic statement: "Abortion is just like climbing a skyscraper."
This is exactly the message the world needs to hear; there's no better comparison that could help people to understand the physical and emotional process of getting an abortion.
DesChamps was, however, raising money for the Let Them Live organization, which helps women who are pregnant and struggling financially.
The organization helps everyone they can to choose life, including women without jobs or homes.
Some examples of women they've encouraged to take on an 18 year responsibility include a jobless mother of five facing eviction, a mother of two already juggling three jobs, and a soon-to-be homeless college student who actually found Let Them Live through DesChamps' climbing of the Chase Tower. 
As the organization says on their website, situations like these are just "temporary hardships" that should not influence their decision to have a child. 
We should be thanking both DesChamps and Let Them Live for helping women choose life by sacrificing their own.