Gael The Conqueror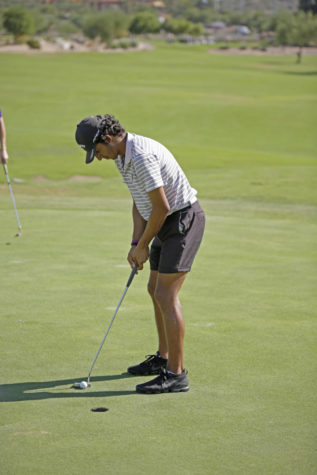 Baseball, football, basketball, hockey, and soccer are all sports you think of when professional sports are mentioned or even collegiate sports. However, one sport is often overshadowed by these sports and thought of as less entertaining or not as difficult. This sport would be golf and someone here at Sunnyslope is on a path to shine in this overshadowed sport. 
Senior Gael Quesada committed to Glendale Community College to continue his academic and golf career after an extremely successful career at Sunnyslope.
"I think he's got a future as a young golfer for sure," said Golf Coach Joshua Woznicki, "Definitely in college and maybe in the semi-pros or pros." 
A big contribution to Quesada's recruitment was his performance at the state tournament this year where he finished 32nd in the entire state. 
"I was one spot outside of qualifying last year so I used that as motivation to really work hard and get there this year," said Quesada. 
Working hard is definitely something that defines Quesada as a golfer as in the off season he put in work like no one else, and he especially had to work hard in order to catch up as he only started recently.
Quesada said he only started taking gold seriously last winter, but when he realized how much he enjoyed the sport and how good he was he began to put in more work. 
Quesada also joins an exclusive group of Sunnyslope golfers who have furthered their careers past high school.
"When I first started coaching I was an assistant and we had one guy go to college – Charlie Flurry," said Woznicki, "that was in 2018 so it's been 4 years."
There is a lot to look forward to in college, but Quesada doesn't want to stop there and his work and motivation should be able to carry him far. 
"I'm trying to be the best the best possible person i can be and trying to be the best golfer," said Quesada, "I'm trying to really get to that next level in college and then play professionally after that because it's been one of my dreams to be the best golfers in the world."
However, Quesada will still look back on high school fondly, especially with him making state in his last year.
Quesada said everyone around him was super excited and he even got text messages and calls from all the other players and parents he knew so it was pretty cool.
The next stage of life for Quesada is now set and he merely has to keep working hard in order to not only make us proud but his new team and everyone who knows him.