The Mule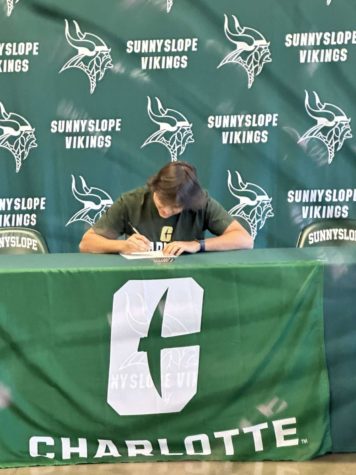 The sport of football is famous for its aggressiveness, an incalculable amount of big plays, and having incredible athletes all over the field. 
All of this is good for the sport and is what draws people to not only watch it but also play football; however, this often causes one of the most important positions to be overshadowed – the kicker. 
Senior Kyle Cunanan felt some of this effect, but didnt let it stop him from being a star in his own right despite only starting kicking his freshman year, too. =
"There's kids who start in seventh or eighth grade, but I kind of had some natural ability from playing soccer my whole life," said Cunanan, "I had to play catch up a little bit towards the beginning in order to catch up."
Catching up wasn't a problem for Cunanan as he was a 4 year varsity member and was 134/140 on extra points and 21/30 on field goals through those 4 years. 
However, there is one game that Cunanan will always remember: when Sunnyslope beat number one ranked Desert Mountain High School in 2022 as he said beating them was 'pretty sick.'
While Cunanan will always look back on that game he now looks forward to a new opportunity as he has signed to kick at Charlotte University in North Carolina and a member of the Division 1 American Athletic Conference. 
Cunanan said, "Im looking forward to the just the opportunity and its just unknown as of right now, so it's the unexpected and the opportunity that i have no idea what's gonna happen and its exciting."
Charlotte isn't completely unknown to him though as Charlotte has been in communication with him for a couple months and he went on a visit in January. 
"They made me feel wanted and they talked to me a lot," said Cunanan, "we set up a visit and I really liked what I saw."
Finally, Cunanan wanted to give a shoutout to Special Teams Coach Eric Tellez, also known as Coach Padre, who stuck with Cunanan no matter what.
Tellez was unable to coach during the Covid-19 pandemic and did not attend practices, but Cunanan said padre would always text before games and would check in multiple times during the week to make sure was everything was ok.
Tellez wasnt the only person Kyle relied on; however, as he also appreciates the help of his holder (Senior Brandon Pecak) and long snapper (Seniro Preston Mosher).
Cunanan his very much looking forward to the opportunity to play at the next level, so dont believe for a second that youve heard his name for the last time. If you want to keep up with his career there will also be a HBO documentary on th entirety of the Charlotte football prgram coming during their next season.