Johnny and The Wizard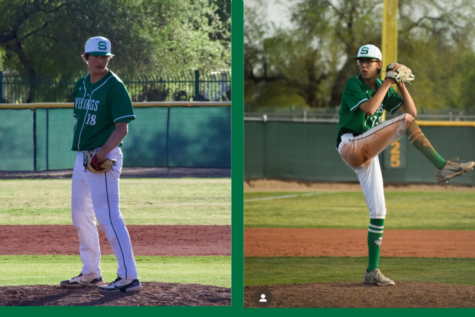 Bryce Harper recently led his team to a world series appearance last October. Albert Pujols hit his 700th home run on September 11th 2022. In 2023 Patrick Corbin will make at least 24 million after signing a 6 year $140 million contract in 2018. 
You may recognize that all three of these people are professional baseball players, but that's not their only similarity. What if i told you that all three of these professional baseball players came from a community college; something they share with two Sunnyslope players. 
Seniors John Witt and Owen Harper will be heading to Paradise Valley Community College after the end of their final season in high school. 
"The coaches were amazing," said Harper, "The campus and just the atmosphere there all sounded like a great fit to me."
Paradise Valley is a mere 20 minutes from sunnyslope, so the two aren't going too far away from Sunnyslope but their impact will surely be missed. 
"They're going to be two of our key guys this year for sure," said Baseball Coach Jeff Schillington, "They're really important to this team." 
To put into perspective just how good these two have been in high school during their junior year Witt had a .351 batting average, 13 runs batted in, and 8 doubles while on the mound Harper went 4-0 and put up 1.45 earned runs allowed, let up only a  .173 opponents batting average, and in 29 innings. 
Witt has been on Varsity for quite some time and has been a crucial part of the team the entire time and he is looking to contribute to an already solid PV team who has a record of 19 wins and 9 losses.
Now, having two players go to the same college to play ball isn't exactly unheard of at Sunnyslope, but it's always something nice to see.
"I think it's always nice when they can support each other and they have a teammate that they already know and usually makes their transition easier," said Schillington. 
These two players in particular going to the same college together is even more special when you consider how long they have known each other. 
Harper said, "We played little together and then we played a little bit of club ball together, so probably when we were about 11 or 12 we started playing together."
The two have certainly made plenty of memories here at sunnyslope both in baseball and otherwise but for Harper one stands out above the rest.
On April 21st 2022 Sunnyslope faced off against Brophy Prep in a late season rivalry game with Harper at the mound only letting up one run in Sunnyslope's 6-1 victory, and he said that he will always look back on that game with fond memories, but he also got his infamous nickname – Harry Potter – after he was a wizard on the mound. 
There is only one more season at Sunnyslope left for Witt and Harper and after that is over they begin a journey that, hopefully, will lead to another Bryce Harper or Albert Pujols.