Willow Project Moves Forward, Much to the Dismay of Climate Activists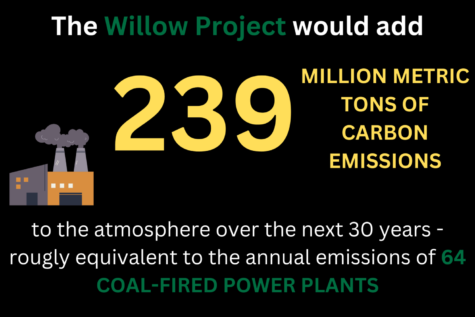 The Biden Administration approved The Willow Project March 13; the Alaska oil drilling project was originally approved by President Trump in 2020, but was paused after a federal judge noted negligence surrounding wildlife impact.
#StopWillow is taking off on TikTok. But what is the Willow Project? Here's what to know.
The Willow Master Development Plan is a $6 billion proposal from ConocoPhillips to drill oil inside the National Petroleum Reserve in Alaska.
The halting federal judge vacated development permits in August 2021, saying initial federal reviews failed to include measures to mitigate the impact on polar bears.
On their website, the oil giant says that the project could deliver up to $17 billion in revenue for federal, state, and local governments, creating over 2,800 jobs. 
Willow would also yield an estimated 600 million barrels of oil. In a press conference, the Biden administration says boosting oil production could help keep consumer energy prices down – a statement that economists caveat, saying it'd take years to actually see prices drop.
The Department of the Interior's Bureau of Land Management on their website said that the decision "strikes a balance" by allowing ConocoPhillips to "use its longstanding leases in the Arctic," while also limiting drilling to three sites rather than five. 
The Bureau of Land Management describes the proposed site as "critical" to local wildlife, supporting "thousands of migratory birds" and serving as "a primary calving area" for local caribou. Beyond the region, the Bureau says the project would release 9.2 million metric tons of annual carbon pollution, which contributes to human-caused climate change. That's equivalent to the emissions of roughly 2 million gas-powered cars.
The news has been met with outrage among environmental campaigners who say it fatally undermines the president's climate agenda.
"After all that this administration has done to advance climate action and environmental justice, it is heartbreaking to see a decision that we know will poison Arctic communities and lock in decades of climate pollution we simply cannot afford," said Lena Moffitt, executive director of Evergreen Action in an interview with CNN.
Supporters of the project claim it would create thousands of jobs and be a new source of revenue for the petroleum-rich region.
This is because it would represent the biggest U.S. oil field in decades – "one of the most important resource development projects in our state's history" as defined by Alaska Senator Dan Sullivan – capable of producing around 1.5% of the country's total oil.
But opponents fear that the obviously catastrophic repercussions of annual emissions equivalent to 76 coal-fired power plants operating in a single year would be adding fuel to a global climate system that's already ablaze.
Nevertheless, in oil-friendly Alaska, there have been visible shows of support for the project.
Alaskan Native Mayors Asisaun Toovak and Chester Ekak in an opinion online say that "the voices of the people whose ancestral homeland is most impacted have largely been ignored," they wrote. "We know our lands and our communities better than anyone, and we know that resource development and our subsistence way of life are not mutually exclusive."
The Alaska Native mayors said in their opinion piece that the project is expected to generate $1.25 billion in taxes for the North Slope Borough to pay for basic services like education, fire protection, and law enforcement. Another $2.5 billion is expected for a grant program that will provide other improvements like a new recreation center for youth and community programs in Wainwright. 
As a result, the Willow Project has become a lightning rod on social media, with TikTok users in particular galvanizing around urging Biden to reject it.
So far, the debate online has amassed millions of views, a spot on TikTok's top 10 trending list, and a substantial amount of tangible action in real life.
In fact, more than one million letters have now been written to the White House protesting Willow and almost 3 million people (and counting) have signed a Change.org petition doing the same. 
Many have cited Biden's supposed dedication to fighting the crisis and backing of landmark laws to accelerate the expansion of clean energy in the U.S. as deceitful amid his current deliberations. 
They would consequently deem his approval of Willow a betrayal, especially considering that during his 2020 election campaign, Biden promised to end new oil and gas drilling on federal lands. For this reason, the President is under immense pressure from both sides.