Taylor Swift's Eras Tour Opens In Glendale, Erazona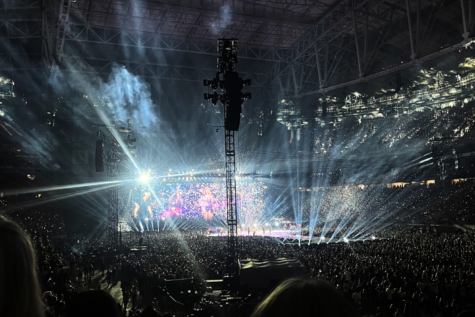 After her acoustic set, Talyor Swift fearlessly dove head first into the stage, having fans on the edge of their seat for what her next move could be. 
Swift opened up her The Era's Tour here in Phoenix on March 17th and 18th; 70,000 people flooded State Farm Stadium both nights to see Swift's first tour since her Reputation Tour in 2018.
Many of those 70,000 people included students and teachers from Sunnyslope
English Teacher Leah Clark overall rated the experience "10 out of 10– It was definitely a spiritual experience, I would not call it just a concert; to me it was a show."
Sunnyslope Student Ivana Grgic said, "I would honestly rate it a 9/10, the experience was really fun, I don't think I sat down for a second of that concert."
For Swift's first appearance in nearly five years, many agreed that she really outdid herself.
Clark said, "It was definitely beyond expectations, in my mind, it was going to be amazing, but I didn't expect her to be so thoughtful in all of the details; from the costumes to the dancers, to what she personally said to her fans"
Grgic said, "She really knows how to keep a crowd entertained, I feel like the dramatics of it all, especially with the transitions and acting, I loved that."
For several, the best part of it all was the fan culture.
Grgic said, "A lot of people had friendship bracelets and stickers they were handing out to people and I thought it was really cute and made the environment really fun"
Clark said "The atmosphere of 70,000 people who are all genuine swifties; sometimes you go to a concert and you can tell people are being dragged to this concert, but there every single person was 100% in and that just made it even better."
Swift's unique vision of exploring her "Eras" over the years was universally loved by fans 
Clark said "I think she went through all of her eras, sort of each reinvention of herself, to make a very cohesive message of who she really is and she truly speaks to empowering females and the LGBTQ community"
However, opening night had its own complications
Grgic, who attended the first night said, "The only issue I had was that I feel it could have been a little more organized."it took me over an hour to get out of the parking lot, so I got home at around 1 in the morning."
Grgic also noted a lack in communication about seating arrangements and policies at the stadium.
Some also felt that some albums were underrepresented by Swift.
Grgic said, "I do think some things were nicely incorporated; she has 10 albums so obviously some are going to be underrepresented, but I do wish she did more Speak Now."
Clark said, "I would've liked to see more Speak Now,  is my least favorite; I like it but I definitely would've liked to see more Speak Now — it came out when I was in high school or college so it goes back to my OG Taylor love."
Everyone got to see their favorite album, new or old, performed.
Grgic said, "Reputation was incredible; It's a very fun album and it really gets the crowd excited because everyone knows it was her first album that was different than her other eras."
She also said, "I also really liked Midnights because she hasn't performed it live before, the other concerts I could see through social media, but midnights was completely new and different, I loved the way she did it with the choreography and all."
Clark said, "Red is my favorite album, so the entire part introducing it [was great] and with '22,' I loved it –I loved the energy."