Sunnyslope Students Shatter Track Records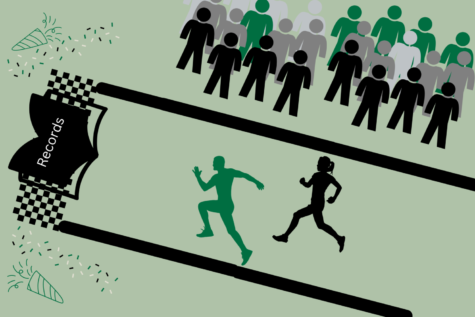 Senior Luke Snyder and Freshman Aniyah Martin competed in a track meet on March 18th where they broke a total of 4 school records combined. 
They competed at the Devon Allen Invitational that was held at Brophy Prep High School, and were part of a select few fast enough to compete at the highly competitive track meet here in Arizona. The records they broke are also a reflection of their commitments.
Snyder said, "It means a lot to see all the hard work pay off, to finally see something pretty big like this."
Indeed work paid off as at Brophy – Snyder ran a 49.96 second 400 meter dash – also a personal record for him. 
Martin shared similar sentiments and said, "It just means that I am able, I know I can get better. I'm already there but then I can just improve more."
Feeling accomplished wasn't the only thing the two runners shared as Martin also ran personal best times of 58.63 second for the 400 meter dash and 45.25 second for the 300 meter hurdles. 
These two do not plan on stopping there as no time will ever be fast enough it seems. 
"For the 400 I want to get down to hopefully 56.9 and for the 300 hurdles I want to get down to a 43," said Martin. 
For Snyder, he hopes to keep running in college so he will have to keep beating his times.
"Hopefully I can run track in college," said Snyder, "I'm talking to a couple of coaches, and a bunch of community colleges."
While two may be similarly impressive on the track their introductions to the sport are quite opposite. 
Snyder said his introduction was through Senior Will Eaton, "my sophomore year, [Eaton] told me to do track after football, so I did, and then I kinda started doing it for club and got really into it."
On the other hand Martin seemed to be destined to run at Sunnyslope as her mom is the head sprint coach at the school. 
"I'm actually really enjoying it and I really wouldn't want anybody else to coach me just because she knows what I'm capable of," said Martin.
Martin also has aspirations beyond just high school and like Snyder wishes to run in college, but she's still a freshman with many more records to break. 
Martin said, "None have reached out to me yet but I'm really looking at Oregon. My cousin went there and I want to go."
Both athletes share another similarity: where they find their motivation to run. 
Snyder said that his teammates and coaches really push him to get better at every chance, and Martin attributes her inspiration to her mother and said that "she's a really hard worker and she just really keeps me inspired."
With about a month left in the season both runners will look to keep getting faster and hopefully find success at districts and state.