Softball Season Rages On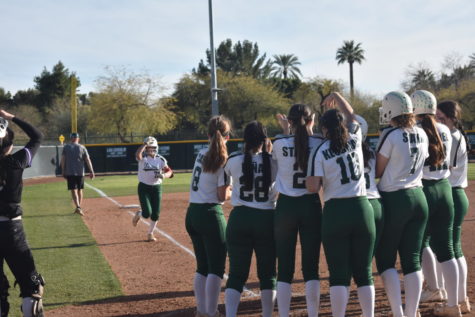 You hear dominating shouts and hollers from the stands at Sunnyslope High School.
A ball flies through the air as you see a player slide onto the base.
Safe! Yells the umpire.
This is only a small part of the immense experience of Sunnyslope Softball.
So far, the team's record is 10-4, playing in a bigger division against different schools from last year.
Varsity softball player Jordan McMahon said, "We get to play against schools like Pinnacle and O'Connor now with better pitchers."
Playing in a bigger pool comes with its challenges, but it also means a chance to make irreplaceable memories.
The team's win against Xavier is a current highlight to the season.
Coach Mike Fenton said, "We came back against Xavier, scored 3 runs in the bottom of the last inning, and won that game. We were down 7-5 so it was a fun win to have."
This year's team has a lot of new players added to the mix- including four new freshmen.
Fenton said, "It's exciting to see what we can do cause we play these major major wonderful softball teams and so it's kinda interesting to see if we can play with them- if these new 14 and 15 years olds can play at that high level against a lot of schools that have these college bound seniors."
So far, all of the new and returning players have lived up to their potential.
Though being competitive players, the team doesn't only focus on the wins; there is also great pride taken in the team's bond.
McMahon has committed to Weber State. McMahon said she loves the sport and looks forward to playing in college.
This feeling of joy impacted by the sport isn't only shared by McMahon.
Junior Sabrina Case also said, "I've really been enjoying it [the season] -we're doing pretty good and it's fun to have a new season and play new teams."
Sunnyslope's sports- Softball being only one of the many-  are one of the countless things that the school has to offer; they create friendships, determination, and dreams.