Moga Takes His Pick
UPDATE: Minutes after our article went live, Junior Luke Moga tweeted "Surpise! #ScoDucks" along with a duck and cactus emoji and a graphic making it clear Moga has committed to the University of Oregon.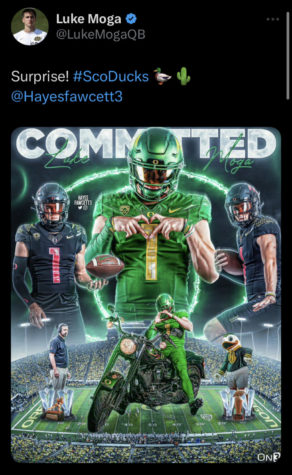 4 Star Dual Threat Quarterback Luke Moga has postponed his commitment date that was originally scheduled for April 28, 2023, according to a post Moga made this week on his Instagram Page.
Moga, a fast-rising QB from Arizona, originally set his commitment date with 6 teams to choose from: Oregon, Miami, TCU, BYU, MSU, and ASU.
Lately, a variety of teams have asked Moga to come out to their facilities including typical postseason schools such as Clemson and other top college football schools.
In an interview with Youtube Football Sports Analyst Cody Cameron, Moga said, "It's been super fun and it's a testament to myself and how hard I've worked."
Moga's dedication to making Sunnyslope Football showed off last year, with one of Sunnyslope's best football seasons in a while, and Head Coach Sam Jacobs credited Moga with his talent to run and throw, which goes to show why he is such a talented QB.
"I'm looking forward to next season and thinking about it daily. Next season you can look for Sunnyslope's first playoff win in 10 years," said Varsity QB, Luke Moga.
Though the pressure is on for next season, Moga is focusing on the present, and many have noticed the number of offers he has gathered up.
Freshman Greyson Beckett said, "I think it's really impressive he has all of these offers."
Many speculations are rumored about Moga and where he will commit to. Many see the desire from Oregon to have Moga, but many wonder if he will stick to his hometown.
Teammate Tommy Reeve said, "I've noticed that the Oregon Ducks have been pushing for him a lot, but it would be really cool to see Luke play for the ASU Sun Devils, being able to watch him play at an Arizona college would be thrilling."
A couple of months back, Moga seemed to pick up countless offers from big-time schools, which was huge for the Sunnyslope Program. During Moga's college recruitment process, it came to know that Moga had built a strong connection with the staff at ASU.
In that same interview with Cameron, Moga said, "Coach Dillingham is awesome. You know he's texting me and calling me every day and he and Coach Baldwin are very smart offensive coaches."
Many coaches have recognized Moga's ability to throw and run, but it is seemingly phenomenal to see Moga be able to run so fast and at speeds that are incredible for a QB.
"Yeah, one thing that I train a lot is my speed. I run track and field, and I feel like the ability to be able to run creates so much more time for me and my receivers as well," Moga said.
Many are thrilled to see the things Sunnyslope Football has next year, as they not only will have a Top 15 QB in the Nation, but talented WRs, RBs, and many other positions on the field.
"I can't wait to watch Moga play next year. Knowing that he has received all these offers shows Sunnyslope Football some promising stuff, and hopefully, we'll be able to win the playoffs next year," said Freshman Ryan Clark.
Moga is a talented QB, but many wonder where he commits to at the end of the day. It seems that many schools are pushing for this fast and talented QB to come to their school but it's all up to him to decide where he wants to play college football.
"It's up for him to decide, but any school that picks him up should realize that they have required a hidden gem. He has a good future ahead but needs to show out next year, as it is gonna be his senior season," Reeve said.