For Our Lives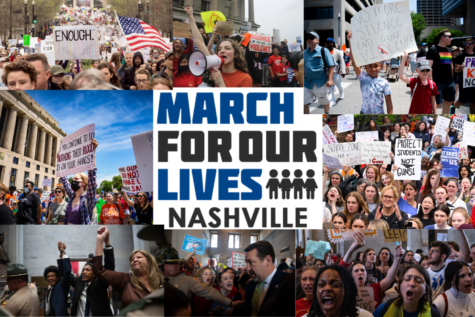 Lawmakers in the capitol building in Nashville, Tennessee, were met with a sea of angry, heartbroken, and determinedly vocal young people on April 6.
In addition to continuing shouts for gun reform and school safety that resounded throughout the week — organized in the wake of the March 27 Nashville school shooting that left three 9-year-olds and three adults dead — the student activists and their allies were decrying the actions of Tennessee lawmakers against Reps. Gloria Johnson, Justin Jones, and Justin Pearson.
The three legislators were stripped of their committee assignments and faced a vote from the Republican majority, led by Speaker Cameron Sexton, that would potentially expel each from office for violating House conduct rules. The lawmakers (dubbed the "Tennessee Three" online) had brought "No action, no peace!" chants to the House floor, using a bullhorn to amplify the demonstrators' calls for action.
National student-led advocacy group March For Our Lives, one of several organizing groups already taking over the city's legislative center, immediately cried foul. "We do not live in a democracy if mics are being cut when we try to make a stand. This is an abuse of power. This is an attack on our democracy," the organization tweeted.
So, they expanded their gun control protest into what they dubbed an anti-fascism rally. "Monday we walked out and marched; Today, we're rallying for democracy."
March For Our Lives advocates a policy agenda that rewrites the "glorification" of guns, political apathy, and corruption underlying gun violence, including the arming of state actors and the low standards for gun owners.
As Johnson, Jones, and Pearson waited out the vote with activists, cries rang through the building: 
"Free, free, free. Free the Tennessee Three!" "Hey, reps, listen: Schools are not a prison!" "You ban books. You ban drag. Kids are still in body bags!"
Hours later, the House voted to expel Reps. Jones and Pearson. The resolution to expel Rep. Johnson failed by a single vote.
Many were quick to note the disparity in results: two young representatives of color ousted, while the single white lawmaker remained. "I think it's pretty clear [why]. I'm a 60-year-old white woman, and they are two young Black men," Johnson said to CNN of the decision to keep her in the House. "In listening to the questions and the way they were questioned and the way they were talked to — I was talked down to as a woman, mansplained to, but it was completely different from the questioning that they got. And this whole idea that you have to almost assimilate into this body, to be like us."
"We called for you all to ban assault weapons, and you respond with an assault on democracy," Jones told his fellow legislators before the vote. In response to statements from other House members that Jones was being removed because he needed to "be more collegial and less focused on race," he replied, "I'm not here to make friends. I'm here to make a change for my community."
Speaking to the press following his expulsion, Pearson noted the "racial dynamic" of the day's vote, but also called for sustained attention on the issue of gun violence. "We need to fight for democracy in the state of Tennessee, and we need people not only to vote but people to show up and show out so we can end the gun violence epidemic in our state. This is wrong. This is unjust. And this is not the way that it has to be."
Four days after being expelled by Tennessee's Republican-controlled House of Representatives, Democrat Justin Jones marched back to the Capitol on Monday following a unanimous vote by the Nashville Metropolitan Council to reappoint him as an interim representative.