Mallory! Here We Go Again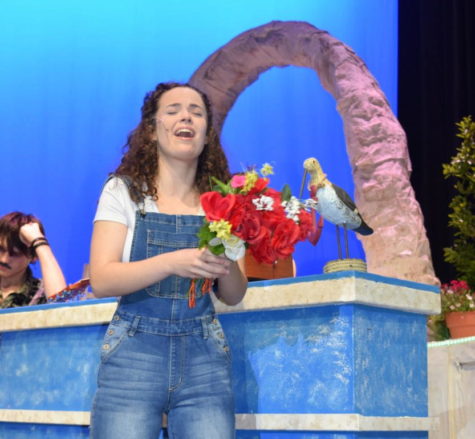 A hard working single mother who's juggling raising a daughter and trying to keep her business alive. 
The Sunnyslope theater has always been a sort of home to many high schoolers but everyone has to leave it behind at some point.
Senior Mallory Alvarez's last production with Sunnyslope theater before leaving for college was Mamma Mia.
"I feel like she has infinite intelligence about everything and I love talking to her.  She brightens my day," Junior Eleanor Moore said.
She has been doing theater for 11 years and has taken part in most every Sunnyslope production put on since her freshman year.  
She has had so many titles throughout the years at many different theaters.
She's been a counselor at the Phoenix theater summer camps, a stage manager at Art and Sol Performing Arts Program, as well as a cast member in many different productions at a variety of theaters.
Alvarez has dreamed of playing a character in Mamma Mia her whole life.
"I grew up watching [Mamma Mia] and I have a super close familial connection to this show."
Alvarez said her biggest inspiration in doing theater is her mom, who had done theater in high school, and still has a passion for it today.
Alvarez said "My mom was the one who started my obsession with theater and I want to succeed in a place that she wants me to."
Excited to jump into theater in college, Alvarez can't wait to be in New York learning new things, meeting new people, and strengthening her performance skills. 
She explained "I got into Hofstra University in New York where I'm going to major in drama and minor in musical theater."
 Leaving Sunnyslope behind means passing on traditions.
Students in Sunnyslope theater have traditions that were given to them from past theater students, each one has a different meaning behind it.
Most seniors have one or two to pass down, Alvarez is the proud owner of five traditions, each to be passed down to other theater students before she graduates from Sunnyslope.
Alvarez says one of her favorite traditions that she has is "the boxing gloves," a symbol of fighting for the theater and working hard to get things done. These gloves will be passed down to a student who she believes is worthy of having them.
Mallory Alvarez has made so many connections with so many students through Sunnyslope theater.
Junior Andrew Tucker said "Mallory is one of the most talented and kind souls I've ever met and it's a joy to share the stage with her and to watch her perform."
It is hard to let go of those relationships and people when you have been working so closely with them for so long.
She talks about how much she has learned in theater and what makes Sunnyslope so different from other community theaters she has been a part of, where she said, "I've learned how to work well with other people my age to put on a show that can be enjoyed by people my age." 
The students who have worked with her at Sunnyslope theater will miss her amazing energy and hard work, but it isn't just the students.
Theatre Director, Madeline McDonald, said "Mallory is one of the most remarkable students that I have ever directed and her perseverance, drive, talent, and kind nature is unmatched."
While Alvarez will be leaving this year, her legacy will live on.