Track Team Leaps Past Competition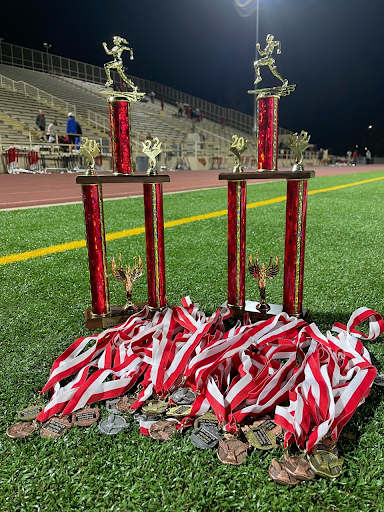 The track team won the Glendale Union Relay Invitational on March 9 at Moon Valley High School.
All of Sunnyslope's main relay teams finished either in first or second place with impressive times being put up around the board, but especially from the boys 4 by 400 meter team and the  girls 4 by 800 meter relay team.
Head Coach Joshua Cunningham thinks this success comes from the effort and quality of runners and said that a lot of the kids can just dig deeper and put themselves through a little bit more pain than everyone else.
This dominance is in part by 'Star' Sophomore Deven Broady anchors for both the 4 by 100 and 400 meter relay teams and is by far one of the fastest sprinters in the state.
Broady is a key member of this team and since his arrival here at Slope he has been impressive and an integral reason why Slope is on the rise.
In track, the fastest runner usually takes the last leg of a relay, and Broady, who holds that position, said, "it's pretty fun being the anchor and trying to chase someone down; that is, however, if Slope isn't already in the lead."
While district competitions provide the athletes with memories, Broady highlights the differences between them and the more prestigious state competitions.
"It's kind of fun," Broady said. "It's a lot different when you're racing our district because it's just whatever and then you go race people that are at big meets and it's just a lot different compared to what we have in our district."
However, SHS doesn't just have a good sprint team, but their distance program is led by Senior Trevor Querciagrossa who just recently committed to Arizona State University to join the track team at the Division 1 school
When it comes to being one of the best, Querciagrossa said it "feels pretty good and I put in the work to do it, and I get it."
This individual star talent is what helps the relay teams put up such good times, as 4 of Sunnyslopes 6 main relay teams have top 25 times, but relays are done with a team not just one person.
Cunningham said, "We have a lot of kids that are actually committed to showing up everyday and putting in work."
While the boys at Sunnyslope may be impressive, the girls team are just as fast as both the boys; the 4 by 400 and 800 teams are both ranked at 22nd and 23rd.
Speed and grit aren't the only things that carry Slope's track. As Senior Sprinter Maddie Richardson said, "I think the social aspects and how everyone is really friendly allows us to push each other individually."
The girls are talented in both types of running, as the girls distance group is filled with talented runners.
If injuries had not derailed the season, Junior Georgia Schaub believes the girls 4 by 800 team would have "done pretty well and maybe even [had] a chance at state."
Sunnyslope's success in the district hasn't just been limited to this year, as they have been leading the district even as the track and field program continues to grow and get better.
Cunningham said, "It's not something to show up to and are just good at right away, but you have to be consistent, and we have a buy-in from a lot of kids."
The coaches aren't the only ones that believe in this consistency and hard work, as the athletes participating understand what they have to go through in order to flourish.
Querciagrossa said, "We did well because we've been putting the work in during practice and we're a well balanced team all around."
At the end of the day, this hard work and dedication has led to extraordinary success all around including jumping, throwing, and hurdling, but the relay teams are excited about the prospect of competing at state and are happy about this year's success.
"I think celebrating with your team at the end is the best, it is always very fun to see each other's reactions and winning is always very fun too," said Schaub.
Your donation will support the student journalists of Sunnyslope High School. Your contribution will allow us to purchase equipment and cover our annual website hosting costs.