New development outside Phoenix desert; affordable housing may diminish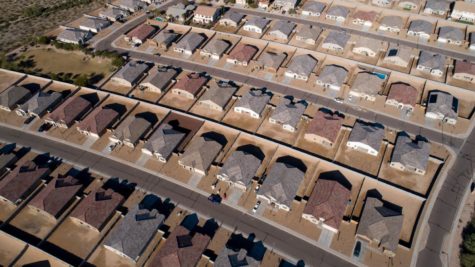 New developments are sprouting up all over Phoenix, but a certain buildup has caused a great deal of controversy.
Howard Hughs, a development and management company, has struck a plan for a 600 million dollar housing project outside the Phoenix Desert.
The project will create 100,000 new homes over 36,000 acres.
Indeed, housing demands are high due to the rising population, and companies believe that building uneconomical houses will help to relieve the predicament.
Environmental Organization Sierra Club advocates for clean air, community wellness, and social justice; nonetheless, some developers do not maintain community or environmental safety. Sandy Bahr, director of Sierra Club, said, "Developers in Phoenix prefer blading vast tracts of land and slapping up houses versus actually trying to build in a way that accommodates the landscape, the neighbors, or the community."
Though large expansions benefit some parties, they do not aid the already weakened environment. Bahr added, "We are in a multi-decadal drought and already are seeing shortages on the Colorado River, plus [we are] pumping more groundwater than is being recharged. We should not be starting a whole new city."
A city planning to be the size of Saint Louis will only detract from Phoenix's already limited water supply.
With the current housing crisis in Phoenix, most buyers can not find comfortable housing in their budget.
In an AZ Family profile, Payam Raouf, owner of Arizona Property Management and Investments, explained: "We've got people calling, crying over the phone, people saying I'm going to kill myself, I'm going to be on the street if I don't get help."
Many people are struggling to find affordable housing in Phoenix; ultimately, when they run out of options, those people turn to the streets.
Although Howard Hughs is attempting to aid housing concerns by building more gated suburban  housing targeted towards people that can afford certain amenities, it may increase the already proficient lack of cost-effective housing.
Bahr said, "I don't think limited housing will be an issue for Phoenix, but limited affordable housing is and will be unless we require that affordable housing be a component of all development. Not providing housing for citizens, let alone housing that is reasonable, will diminish the living standards for low-income Phoenix natives."
Joe Biden recently announced a 1 trillion dollar infrastructure bill to better states.
In Arizona, 5 million dollars of the bill will go to bettering highways.
"We've got people calling, crying over the phone, people saying I'm going to kill myself, I'm going to be on the street if I don't get help," said Bahr
Additionally, the new 600 million dollar development will be right off of the I-11 – the new interstate being constructed connecting Mexico to the Hoover Dam.
Howard Hughs has chosen the perfect time to initiate their plan, considering the highway will be better by the time the "new city" is finished.
Bahr voiced her thoughts on the infrastructure bill, saying, "We need to fight efforts to direct them to a new freeway that we don't need and that will facilitate this sprawl development and increase carbon emissions at a time when we should be doing everything to prevent them." According to Bahr, developing on a different freeway will relieve reliance on the I-11 and will create more efficient access to the development.
Affordable housing, environmental consciousness, and location all seem to be a roadblock in Howard Hughs' development and management company's housing plan.
This proposal could make changes to its structure, and thus better the lives of all Phoenix residents, with a few simple tweaks.
Your donation will support the student journalists of Sunnyslope High School. Your contribution will allow us to purchase equipment and cover our annual website hosting costs.