Woods Club Gets to Work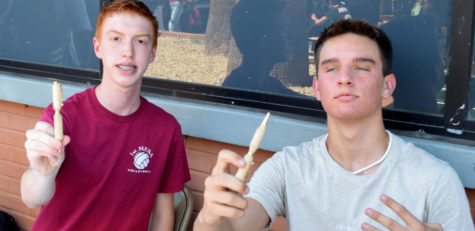 Including "creativity, math, logic, memory, spatial reasoning, emotions, and hand-eye coordination," there are many different things to be gained from woodworking.
 So if you happen to be looking for a club where you can draft ideas, build, meet new people, and work on new skills, the Woods Club could be a fit for you.
Crafting is one of the many ways to unleash creativity.
 Woods Club Advisor Jared Hutchison believes that creating "gives your brain a new way to think." An example of this is when something you make doesn't look quite right. Think in a new way, use problem-solving skills and look at what could be changed. 
During adolescence, it is critical to be exposed to innovation. Particularly in school, it can be beneficial being able to make an idea into a solution, especially for group projects. Furthermore, having this skill can lead to a myriad of opportunities for the future. 
Having a fun club to hang out after school is very important.
 They are a safe place to relax, make new friends, learn new skills, and can be put on your resume for either a job or university (if that is the route you decide to take).
 Going to an all-inclusive space where you manufacture will leave an extremely positive influence on you.
Pens are one of the many things you can build, this item is one of Hutchison's favorite things to make! 
It only takes about 30-45 minutes and gives instant satisfaction. Is there anything specific you wish to make? What will leave you pleased after making it?
The most precious thing a student can craft in this club is what they find the most special. 
Hutchison agrees, stating "The most valuable item is the thing you make and treasure, something you would never sell."
 Students get to design and create with endless possibilities, leaving their personal touch on something they can be proud of.
 Woodworking is like growing a flower.
 Help the flower grow by delicately putting it in soil, giving it sunlight, and watering it adequately.
 After those steps, watch it eventually bloom. When woodworking, in this example, create the pen by planning measurements, apply techniques you've learned to bring it into existence, and add any final touches to the product.
 After those steps, you get to use it! In both of these scenarios, you work towards the end goal and both leave immense satisfaction after accomplishing.
Start the year off by joining the Woods Club. 
Get the chance to learn the best methods for woodworking and woodturning.
 Meet new people that you can collaborate with. 
Allow your mind to be limitless when creating something you will be proud of. 
You will find no harm in trying something new, instead, you'll potentially discover something you love. 
Your donation will support the student journalists of Sunnyslope High School. Your contribution will allow us to purchase equipment and cover our annual website hosting costs.