Game Club Wins Club Rush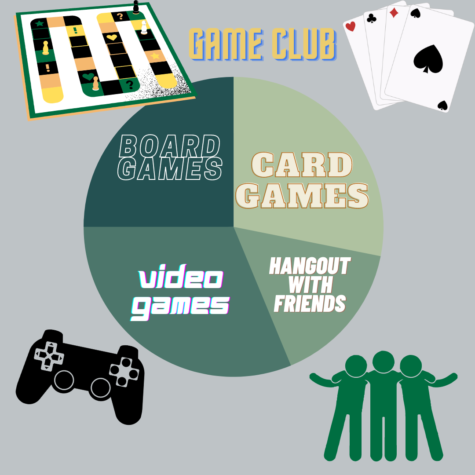 Mario and Yoshi are battling each other down Moo Moo Farm when all of a sudden Yoshi is hit with a green shell as Mario glides in for the victory. 
A common weekend sight for countless video game players.
But this happens all the time at SHS — at Game Club.
Game Club is a place with no school work and where students can be loose and free of stress.
"Yeah the people are really fun and I like having fun with my friends," said Sophomore Club Member Zachary Short.
Game Club's main focus is creating an environment where students can play their favorite games, whether they be video or physical, and most importantly have fun.
While one may think that the club is focused on learning and playing new games, that does not seem to be the main attraction as Junior Max Elio said, "It's nice to do something you like at a school that's not academic". 
The Game Club draws in all sorts of students which helps create a very different atmosphere in the club. 
"Students who join the Game Club are unique and all the students are different and have their personal things going in their life," said Sponsor Michel Schwimmer
Similar to FBLA, the Esports part of Game Club does have competitions with other schools in a similar fashion to professional Esports tournaments. 
Senior President Ricky Hernandez said that last year "team 1 qualified for the open tournament to the finals and from there got one loss and one win" and in 2020 the E-sports team won a rocket league tournament while almost repeating last year as well. 
In fact, the Game Club and Esports used to be separate, but through the president's hard work, video gamers and board gamers now play side by side.
"There were some roadblocks," said Hernandez, "but we succeeded and are still going; although, we don't compete until the spring".
However, that doesn't mean there isn't any competition in the club even if it is the good old friendly kind. 
"If you have a bunch of people playing cards then we'll do card tournaments," said Short who also mentioned that gamers will have tournaments among themselves as well. 
It's not just regular card games or the classic Mario Kart on the switch that is available, but there is a rather large variety to choose from.
With several different games in the club's inventory, Hernandez has his favorites as he said he likes playing strategy or RPS games that are not to hardcore. 
It seems that the member's favorite part of the club is not the game aspect, but seems to revolve around simply hanging out with a small number of people who appreciate the same things as them. 
Short and Elio both said that the minimal number of students and the very laid-back environment is one of the best qualities of the club, and in fact, Short said there are "some new people who don't even play games". 
The members of the Game Club also all seem to share one trait outside of liking all sorts of games: their uniqueness. 
Schwimmer said, "You can see that all the students are unique, out of the norm you would say, and they all have something to add with their uniqueness and their strengths and weaknesses".
Your donation will support the student journalists of Sunnyslope High School. Your contribution will allow us to purchase equipment and cover our annual website hosting costs.