Sunnyslope's Decade-Long Tradition Gets Students Involved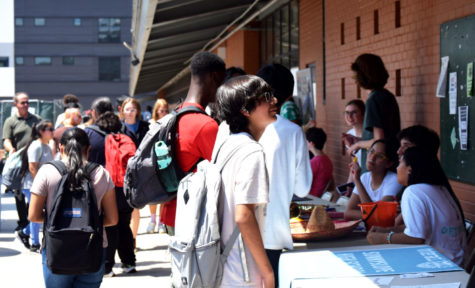 Masses of students flow through the center of campus, visiting colorful tables packed together against the school walls. 
The students operating the tables cheerily hand out flyers to anyone willing, their smiles as bright as the hot Phoenician sun.
This was the sight that many Sunnyslope High School students experienced during Club Rush last Friday, August 26th. 
The event is a long-standing tradition at SHS; Athletic Advisor Tim Matteson revealed, "Club Rush has been [around] for a long time, decades." 
Not only does the event have an extensive history, but it also involved nearly of the clubs at the school this year; this added up to a grand total of 25, according to Matteson.
The process of being included in Club Rush is relatively simple; club sponsors simply receive an email from Leah Clark, the Student Council Advisor, and notify her if their club needs a table. 
The next and last step, Matteson explains, is Clark "gives us a facilities request for the amount of tables she needs, and we set them up."
The SHS Student Council also plays a role in organizing Club Rush, mostly through providing entertainment and exposure during the event.
Senior and Student Body President Vylet Bertoncino said, "StuCo's role is basically just to make sure all the clubs are recognized… we really use our social media, because that's where we get a lot of reach from, to make sure all the clubs have their space on the story and [we] do a small post."
Student Council also makes the event more enjoyable, especially when many club leaders have to sit outside and endure the Arizona heat.
"We're out there with the music box, providing some entertainment. We really want all the students to maybe go participate and check out all the different clubs," said  Student Body Treasurer Teague Perez.
Matteson believes clubs hold more importance on campus than just providing entertainment; "Student involvement in extracurricular and club activities is a huge part of our success… we believe that the more a student is engaged and active on campus, the more successful they are in school," he said. 
Clubs are considered by many to be an important facet of the student experience, and Club Rush provides an easy way for students of all grades to be more involved in extracurricular activities. 
Perez agrees, "It's an easy way to get into something… at first you don't know. You hear the announcements- 'Okay, come to this club at this date, this meeting.' But Club Rush is an easy access [to] get to the clubs. Here's where they are, here's what you do."
Becoming active in clubs can have many benefits, and this is why the event is so emphasized on campus. 
By joining a club, "you can discover more about yourself, what you like, what you don't like and for some, take a leadership role… I think it's just a really good way of discovering more about yourself," Bertoncino said. 
The tradition of Club Rush clearly has an important role on campus; getting involved in club life can be a core high school experience, especially at SHS.
Your donation will support the student journalists of Sunnyslope High School. Your contribution will allow us to purchase equipment and cover our annual website hosting costs.