Multicultural Club Celebrates Sunnyslope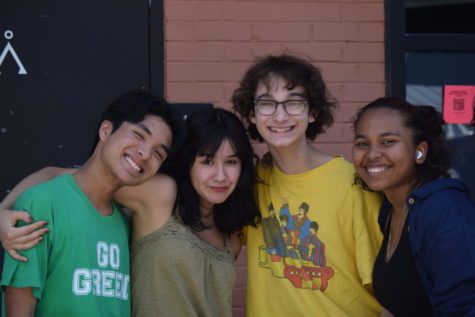 What is culture? The dictionary defines culture as "the customs, arts, social institutions, and achievements of a particular nation, people, or other social group."
Culture takes many forms and has many purposes. 
That is exactly what Sunnyslope's Multicultural Club is all about. 
"We hope to help the community feel more accepting of others and for more members to join our club in order to break the taboo of joining a club that celebrates culture," stated Junjun Quigg, Founder of the Multicultural Club.
The club does more than just inform people though.
"We also hope to accomplish raising more money for organizations that help minorities in our community; for instance, last year we donated half of our profits from our Valentine's Day gift bags to Arizona's Black Philanthropy Initiative," Quigg said.
This club has definitely evolved in the club's first year.
"It did, originally, start as the Asian Cultural Club," said Cameron Licht, the Multicultural Club sponsor.
The club was soon changed to the Multicultural Club.
"And then we ended up changing it to the Multicultural Club just to be more inclusive and because then we could kind of talk about a lot more different things than just strictly Asian cultures," Licht explained.
Meetings are filled with activities and projects from different cultures.
"Last year, we typically had meetings that consisted of doing art projects surrounding the culture or and having presentations about them," said Paul Pascual, Co-founder of the club.
"This year, we want to do a little bit of something more hands-on and do something more active for the community," Pascual said.
The club has even bigger things potentially happening for them this year.
"They're also trying to potentially meet with the multicultural coalition at ASU just kind of see, you know, the college side of things and how that works," Licht said.
The Multicultural Club is open for all people of all backgrounds.
"It's hard for me to experience all of those things so I wanted to find a way where I could experience and appreciate different nationalities and just say culture," said Senior Owen Kodicek.
They are always willing to welcome new members with open arms.
"We accept everyone regardless of your culture, regardless of what you think of your culture, we love you and we want you here," Pascaul said.
Whether you want to learn more about other cultures, or you want to embrace and educate others about your own, Sunnyslope's Multicultural Club might be for you.
Your donation will support the student journalists of Sunnyslope High School. Your contribution will allow us to purchase equipment and cover our annual website hosting costs.