Foreign Exchange Students Arrive Into Sunnyslope's Open Arms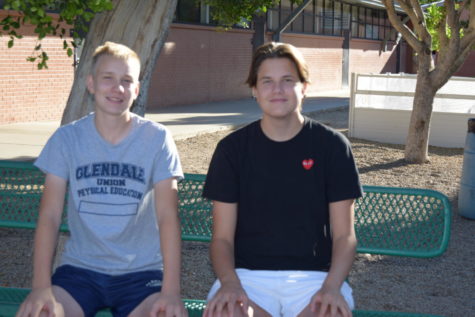 Arriving in a new country you don't recognize is a frightening experience, especially when there is so much unknown.
However, getting to learn about and see something you have always wanted to makes it all worth it, even when home is over 5,000 miles away.
Coming from Finland, Juniors Matti Elo and Julius Lindfors came to the United States to experience an American high school for the first time. 
Adopting a new culture is a challenge, but one both students find exciting.
Elo and Lindfors have only been in the United States for just over a month so they are still  adjusting to the many differences here.
A lot can be learned when moving to a new country.
Elo said, "I've learned more about the American culture and how people are here."
The biggest difference between Finland and America is the language.
From Finnish to English, a new language always takes a lot of time and effort to learn.
However, Elo said, "I have been learning English since third grade."
His goal in America is to expand his knowledge in the English language so being in the United States has helped him a lot this far.
Elo said, "I've been here for one month, I think my English skills got better."
Stepping out of your comfort zone is also a huge part in speaking a new language. 
Lindfors said, "I wanted the courage to speak a foreign language."
In addition to a completely new language, there is a different academic lifestyle.
Unlike any other country in the world, America's school system is significantly different. 
Here our sports teams are heavily connected to school rather than outside activity. 
This also means that school spirit is much more prominent here.
Elo said, "that is the one thing that is much better here."
America's high school's exciting spirit is one to remember. 
Lindfors said he is not used to the amount of school spirit here, but it is fun to be a part of and see. 
The foreign exchange students finally get to experience what a true American high school life is like.
Elo said "I like being here and it is fun to live like an American."
Your donation will support the student journalists of Sunnyslope High School. Your contribution will allow us to purchase equipment and cover our annual website hosting costs.