Pumpkin Spice: The True Arrival Of Fall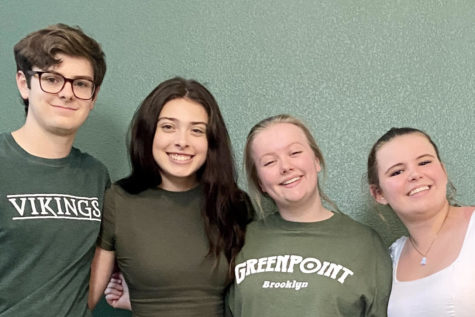 It's that time of year again! Starbucks has released its fall lineup, including the iconic Pumpkin Spice Latte. Sipping a Pumpkin Spice Latte feels like a warm hug for your soul; it's a cozy mouthful of spices that stimulates feelings of nostalgia toward autumns from childhood.
Your favorite pumpkin treats made a comeback on August 30th, and students lined up to order their long-awaited treats at our local Starbucks.
To get the inside scoop on the behind-the-scenes, Senior Eli Makston shared his insight as a Starbucks employee.
"During the fall, we get especially busy and earn more profit because school starts up again and everyone wants to get the fall-flavored drinks," Makston said.
In case you've never tried any fall drinks at Starbucks, Makston provided his expertise recommendation, a fairly popular choice, especially for Sunnyslope students
"My favorite fall drink to make is an Iced Chai Tea Latte with Pumpkin foam, it's delicious and rather easy to make."
In fact, their pumpkin flavor is so popular that Makston revealed that they are short of supply at times.
"I've noticed that this fall, we've been constantly running out of pumpkin syrup."
Other pumpkin menu items that are a staple include the Pumpkin Cream Cold Brew, Pumpkin Cream Cheese Muffin, and Pumpkin Scone.
If you're not a pumpkin fanatic, don't fret, the Starbucks limited edition menu has something for everyone.
"We also have new drinks for people who aren't fans of pumpkin, including the Apple Crisp Oatmilk Macchiato and the owl cake pop," Makston added.
At SHS, teachers and students alike are Starbucks lovers and couldn't wait to share their thoughts about the seasonal menu.
Senior Holly Robinson is both a dedicated customer and a barista. Her favorite aspect of Starbucks is that "the workers try really hard to make you feel welcome and they are super friendly."
Agreeing with Makston, Robinson also said that "the pumpkin cream cold foam is the best thing on the menu right now."
Robinson was one of many who waited in line on August 30, sharing her experience, she mentioned that "it was so busy and there were about twenty cars in front of me."
Robinson and Makston collectively agree that the fall items inspire a special seasonal feel, even during the high temperatures in Phoenix.
The fall menu will be at Starbucks until November depending on the location.
The real ones know that the true arrival of fall has nothing to do with a temperature drop or the colors of the leaves, but the ability to order a Pumpkin Spice Latte at the beloved coffee chain.
Your donation will support the student journalists of Sunnyslope High School. Your contribution will allow us to purchase equipment and cover our annual website hosting costs.