Campus Construction Rages On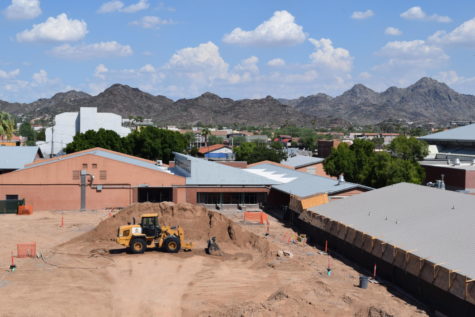 The large construction dirt lot in the middle of campus is the beginning of a new three story building, to be named "K Building."
Assistant Principal Tim Matteson, who is overseeing the construction, said that the first floor of K is slated to be moved in during September of 2023 with the other two floors ready for move in in the months that follow.
"In one year from now, we hope to be moving in the first floor, so we'll have to occupy in phases. September it'll be first floor, then some more over fall break, and then the remainder before winter break next year," Matteson said.
The building is part of the school's plan to house students more comfortably.
Since the school is unable to expand outwards, the only option is to build up.
Along with housing students more comfortably, the new classrooms will help alleviate pressure on teachers.
"(It) will help some teachers who are working six-fifths to go back on to five-fifths, so some of our teachers will be less strained, less work-load on them."
Six-fifths means some teachers are covering positions that currently have no viable candidates or are having difficulty in scheduling.
The introduction of K, and with it new classrooms, there will be more room for new or other teachers to take those classes off of the teachers working six-fifths.
On top of the new building, the athletic fields are all part of the complete project.
Matteson said, "All of the athletic fields are part of the project. If we look at the project in its entirety, there is a picture of what it looks like at the end. And in it the athletic fields are done, K is done, and eventually, (the 500 building) will be remodeled as part of the administration to alieve congestion in the front office. That's the final phase."
Your donation will support the student journalists of Sunnyslope High School. Your contribution will allow us to purchase equipment and cover our annual website hosting costs.