Hangin' in the Hall of Fame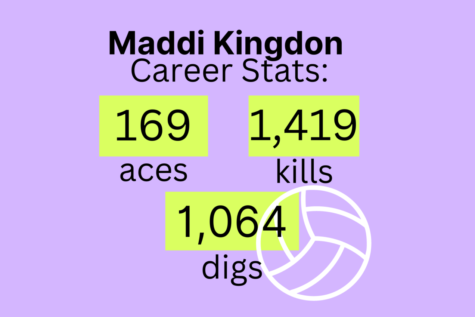 The metal bleachers are trembling.
The crowd is stomping their feet rhythmically to distract.
As the ball enters your hand, the crowd begins booing, screeching — a loud horn goes off.
This is it. 
Match Point after a 2 hour battle. 
You're up by 1, with one point left. 
You are a gatorade ad — people can see your sweat from across the gym. 
It glistens in the lights. 
You take your approach, the ball flies, and it barely clears the net with a backspin that your opponents misread. 
ACE!
In a moment of clutch, you came through.
This may not be an experience for all high school students, but for members of the varsity volleyball team, they've seen or experienced this — especially Alumni Maddi Kingdon. 
She continued to experience this for over a decade after leaving SHS behind.
From a young age, girls from all over the world strive to be the best of the best-Maddi Kingdon is one of the few that have reached this goal.
She played club at Arizona Storm Elite and was a four year varsity athlete at Sunnyslope High School.
After this, she went on to play professionally overseas in countries such as Korea, China, Present Turkey, and Azerbaijan.
Just recently this year, she had a ceremony inducting her into the SHS Hall of Fame- being the 6th person to ever have been inducted.
This ceremony also included Kingdon having a jersey retired in her name- admiring all of her accomplishments.
Kingdon was a four-year varsity athlete who went on to play internationally, known for working hard and making an impact on other athletes of all ages.
During Kingdon's ceremony, varsity head coach Amber LeTarte said she was "one of the hardest working, competitive and intense athletes that I have ever coached."
She set the standards for other athletes going through the system as well, said LeTarte.
 Freshman Emma Gustafson said, "I've always heard that Maddie Kingdon was super intense."
Everyone knows her as the one who 'made it', and still works hard to this very day.
Freshman Rachel Richards said, "I know that she trains in our gym, she played at AZ Storm, and has played overseas."
Kingdon's intensity is what helped get such incredible career stats- including 169 aces, 1,419 kills, and 1,064 digs.
Describing Kingdon's key traits, Letarte said, "She was always ALL in and wanted to be the best that she could be. Her determination and work ethic are an inspiration for all athletes."
Seeing Kingdon in the gym during her ceremony was an inspiration to the volleyball community.
Gustasfon said, "I loved seeing Madi for the first time, and seeing her jersey being retired was a super cool moment."
This passion is what carries over to the volleyball program and its season at Sunnyslope- starting it off with great success.
Sunnyslope High School's program produces the greats, and talent to last a lifetime.
Your donation will support the student journalists of Sunnyslope High School. Your contribution will allow us to purchase equipment and cover our annual website hosting costs.