What You Should Know About Fentanyl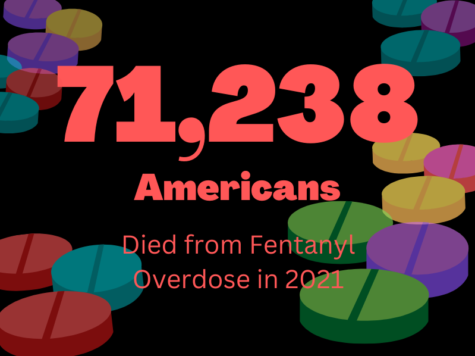 For most Sunnyslope students, drugs and the danger they pose are familiar concepts to us. 
We've been taught by teachers and parents, heard PSAs, seen billboards along the highway – it would be surprising if Sunnyslope students weren't aware of the dangers. 
So why is fentanyl infiltrating our communities, finding its way onto our streets, defying everything we've learned?
Drug cartels are constantly coming up with new ways to attract customers.
Recently, 'rainbow fentanyl' has been circulating – they're brightly colored fentanyl pills designed to look like candy.
This dangerous new trap is a direct target on young people, including high school students. 
This new trap is yet another attempt to drive addiction rates up, so be aware. 
Rainbow fentanyl also comes in a variety of forms – some pills look like small candies, while other forms resemble sidewalk chalk or pieces of taffy.
The new trap, unfortunately, has been a success so far. 
In an article warning the community of the threat of rainbow fentanyl, the US Drug Enforcement Administration tells what to look out for. 
"Every color, shape, and size of fentanyl should be considered extremely dangerous," said the DEA, regarding rainbow fentanyl. 
The statistics continue to look more grim as each year passes, and with the new forms of fentanyl, they're not likely to look up any time soon.
In 2021, over 107,000 Americans died of drug overdoses, with 66% of them being attributed to synthetic opioids like fentanyl. 
This number is higher than the number of gun and auto deaths combined. 
For Americans between the ages of 18 and 45, drug overdoses are the leading cause of death. 
And, sadly, many of those who die of fentanyl overdose had no idea that they're consuming the deadly drug. 
In another article from the DEA, written in April 2022, an official warns of the alarming rates of overdose and the strategies they use. 
"Drug traffickers are driving addiction, and increasing their profits, by mixing fentanyl with other illicit drugs," said the DEA.
It's being mixed with other illicit drugs – heroin, cocaine – in an attempt to raise addiction rates and attract new buyers.
"This is creating a frightening nationwide trend where many overdose victims are dying after unknowingly ingesting fentanyl," the same article said. 
Most of this fentanyl is coming over the border, from two Mexican cartel groups – "Fentanyl available in the United States is primarily supplied by two criminal drug networks, the Sinaloa Cartel and the Jalisco New Generation Cartel," said the DEA. "These TCOs (Transnational Criminal Organizations) are known to control the trafficking corridors in Mexico that connect to California and Arizona," they continued.
Fentanyl is flowing over the border into every state, but ours specifically, which poses a potent danger to Arizonans. 
The US Border Patrol continues to seize large amounts of fentanyl, saying of one case, "Further investigation revealed 340 packages of fentanyl pills weighing a grand total of 187 pounds and worth an estimated $4.3 million." 
Fentanyl remains one of the biggest drug threats facing the nation, and its lethal nature poses a national security threat. 
Fentanyl now comes in brightly colored pills, powder, and chunks, adding to its danger. 
This highly addictive, deadly drug needs to be eliminated from the US and Arizona in order to better protect its citizens. 
Be aware of the dangers – educate yourself and be cautious. 
Your donation will support the student journalists of Sunnyslope High School. Your contribution will allow us to purchase equipment and cover our annual website hosting costs.