September Leaves, October Screams, and November Chills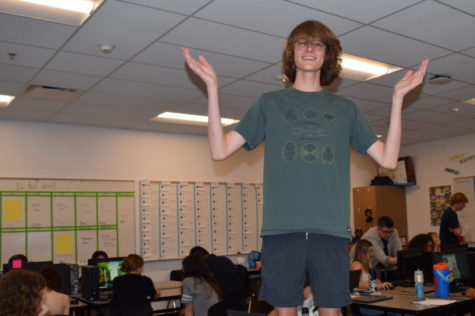 Even though the leaves are still green and the air is still hot, as of September 22, it is officially Fall.
Whether it is Dead Poets Society with golden-brown foliage in every scene or Hocus Pocus which brings a whimsical, nostalgic sense of Halloween, some movies spark the warmth that signals: Fall is here. 
Although rain is rare, many students have a favorite movie that reminds them of Fall – even in Phoenix. 
For some the appeal of a Fall movie is the aesthetic – cozy and heartwarming with a twinge of melancholy. 
Junior Alexandria Wang said, "I just love the movie [Dead Poets Society] and I think the aesthetic of it is very Fall-like." 
Certain movies feel like Fall. 
Wang said that Dead Poets Society has a "classic kinda feel."
Senior Jeanette Perez Cardona said, "I like the Book of Life because first it is the movie that inspired Coco, but the vibes overall are comforting and sweet."
Even characters from their favorite fall movies have a unique sense of fall that is nostalgic. 
Junior Nathalia —— said that Emily from Corpse Bride is her favorite because she is "clumsy and graceful at the same time" 
Like the Corpse Bride, some characters have an unexpected substance that is relatable to others despite being a hundred percent hay and grass. 
Perez Cardona said, "My favorite fall character is the scarecrow because it is in a lot of horror movies and it is misjudged for looking scary rather than comforting."
In contrast to the "by the fireside feel" of a movie like Dead Poets Society or a whimsical world involving the Corpse Bride or a scarecrow, other students are more drawn to the horror genre that reminds them of a teeth-chattering Halloween night. 
Junior Mack Rusing said, "There is something about being terrified that is just kind of fun."
October – one of the most prominent autumn months – holds the suspense that is honored by watching a scary movie with friends. 
Some horror movies are filled with a wearisome dread for the worst and heart-racing fear: it can only be summarized as terrifying. 
Rusing said "Hereditary (2018) and Get Out (2017) are probably my top two; they are both great psychological horror films." 
In theme with the uncertainty of a horror movie some students prefer a mystery for a Halloween night. 
Perez Cardona said, "I feel like the fall weather and cool air is perfect for something mysterious to occur."
Mystery movies perfectly complement the fall weather movie of its windy nights and chilly days. 
Each of the genres have a sense of Fall that can only be captured by sitting down and watching a favorite Fall film that has the essence of either a pumpkin spice latte or a haunted house. 
Your donation will support the student journalists of Sunnyslope High School. Your contribution will allow us to purchase equipment and cover our annual website hosting costs.