Trash Sarver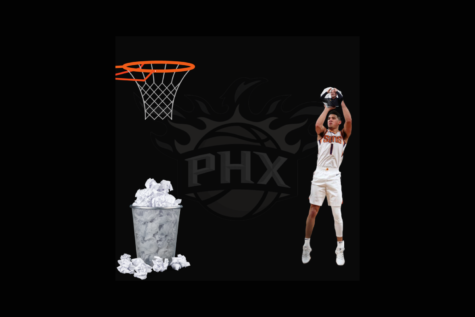 "Why does [the Warriors player] get to say [N-word, N-word, N-word, N-word, N-word]?!" Robert Sarver- a man embroiled in proven accusations of racism, missogyny, and other workplace as seen in the quote above taken from a 2016 outburst during a Golden State Warriors Game- recently began the process of selling his team, the Phoenix Suns due to mounting pressure from sponsors, the NBA, and the Phoenix community.
This selling, though, was not mandated by the nba; in fact, the NBA, after receiving a scathing 40 page report, decided the best way to handle the situation was a measly 1 year suspension, a 10 million dollar fine, roughly 1% of his net with, and a mandatory class teaching diversity and workplace safety.
These punishments were widely seen as a slap on the wrist which, even though Sarver has been ousted, still sets a precedent that the NBA as a whole holds owners to a more lenient standard while also showing their laxed response to serious claims of workplace misconduct.
This, crazily, is the second time the NBA had to deal with an owner who had wanton workplace misconduct allegations. In 2014, the NBA forced Then Clippers Owner Donald Sterling to sell his share in the team due to instances where he used the N-Word in relation to black players and coaches.
The forceful selling was a decision lauded by both players and fans as it showed the NBA's Commitment to protecting the workplace.
The precedent the NBA set during this case painted them as a truly progressive organization committed to protecting staff at all levels.
The NBA's tone switch cannot be regarded as anything short of deplorable due to their blatant disregard for the well being of their employees.
The punishment also highlights a longstanding problem in industries ranging beyond sports: the pursuit of profit over human lives.
Had the NBA forced a removal from ownership, as they should have, they would have to face a financial strenuous legal battle because Sarver would have most definitely sued as he still believes he did nothing wrong.
Now, the NBA has shifted the burden of Sarver's character onto sponsors and fans alike wondering how to proceed and cope with Sarver's misconduct in relation to the franchise they have loved and supported for years.
The sponsors have already begun taking action; Paypal, the Suns' longstanding jersey patch sponsor released a statement severing all ties with the organization after their contract ends as long as Sarver is still the majority shareholder.
Now, weeks after the report, it seems as if everyone involved but the NBA has called for a removal from ownership furthering the belief that the corporation is a lame duck powerless in the face of blatant accusations.
Fans have had to reckon with an allegation that, for some, confirmed their characterizations of the widely unpopular sarver as a slimeball with no moral direction.
Fans are the true driving force behind change as their money, when flowing, signifies that the organization is successful.
With this being said, I urge my fellow fans who have experienced the highs of Steve Nash's back to back MVPs and Deandre Ayton's earth shattering Valley oop to use your voice whether it be calling out the organization on social media or threatening to pull season ticket ownership in order to build a team that is aligned with positive values going into an ever- changing, progressive world.
Your donation will support the student journalists of Sunnyslope High School. Your contribution will allow us to purchase equipment and cover our annual website hosting costs.