A Viking's Last Stand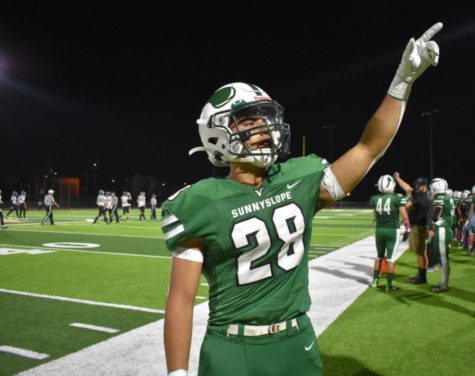 Stamford Bridge 1066. An army of Englishmen come upon a group of resting Vikings ready to send them to Valhalla. But soon all those around become witness to the most glorious viking act of all time. One man stands alone on the bridge that separates the two sides cutting down attacker after attacker in the most legendary last stand of all time. 
This heroic stand is the epitome of what Vikings are: fighting until there is no fight to fight. Here at Sunnyslope there was a last stand of our own by students with viking-like spirit, and now they reap the rewards. 
"It was unexpected, incredible, and inspiring," said Sunnyslope Football Parent Hannibal Kruger.
On November fourth the young men of the Sunnyslope Varsity football team went to battle against the number one football team in their division, and dominated their opponent. 
Head coach Sam Jacobs said the victory proves that "you can play with anybody."
The victory over Desert Mountain was an incredible performance that was the result of hard work, determination, and excellent coaching by Jacobs and his staff.
"Our scheme works against teams like that," said Jacobs, "so it was really just about executing more than anything."
However, the preparations that the team took was not just game planning around the other team, but also changing attitudes in order to have the resolve to take on a top seed. 
Senior Charlie Fiedler said that the team practiced like "they just had nothing to lose and we just needed to leave it all out there on the field for the seniors."
Though, leaving it all out there for the seniors on senior night wasn't the only thing that the Vikings knew they needed to do. 
"We knew we had to be a resilient and strong team," said Senior Preston Mosher, "We just had to work hard for all four quarters and we knew we could beat anyone."
Mosher had a performance that could only be described as breathtaking, recording 2 catches for 72 yards and a touchdown while on defense putting up 5 tackles with 1 for loss and leading a tough group of defenders who only let up 13 points. 
Jacobs said, "It was definitely a good team win and the defense played amazing, but Preston Mosher played one of the best games I've ever seen."
To the Sunnyslope football team, beating Desert Mountain was important for 2 reasons: coming together against a fierce opponent and locking in the playoffs.
"Personally, it was seeing the whole team finally play as one and come together with no finger pointing," said Fiedler, "We got knocked down a couple times but we just got back and kept fighting."
However, winning that night also helped secure Sunnyslope a spot in the 5A division playoffs that was truly deserved.
Jacobs said he didn't think beating Desert Mountain was essential and that Sunnyslope would have snuck in as a 15 or 16 seed, but getting the win moved them up a great amount in the rankings–up to 9 at 6 wins and 4 Losses.
Now the team has the chance to capitalize on that reward and is headed to the playoffs.
Mosher said, "People want to win, and they want to go to the playoffs to break that losing record of the first round." 
Sunnyslope was moved into the second hardest division in Arizona being picked to win only 3 games by renowned Sports Writer Richard Orbert and Desert Mountain was not one, so the victory is even all the more impressive.
Mosher said he believes that the win shows when the team works hard and has great practices.
The impressive win also shined lots of light on the school and especially Jacobs, who won the Cardinals Coach of the Week award over all the other Arizona coaches.
"It's really great because it recognizes what we do as a program," said Jacobs, "Everybody executed well and the coaches did a great job implementing the game plan, so I get to accept that on behalf of everyone else."
One reason why that night was truly special was because it saw young men go into potentially their last home football game ever and fight extreme adversity, and not just for some ranking or praise but for the brother lined up next to them and for ultimate glory. 
Mosher said that he was just "really happy after that final whistle blew" and Fiedler started bursting into tears and was "so proud of the guys for getting that win."
Ultimately, as Sunnyslope marches into the playoffs they do so on the back of a hard fought, inspiring, and glorious victory that left them with boundless prizes, but they did so battling for one another and for their future.
This game will surely be forgotten by many who pass through Sunnyslope; however, for those who witnessed one the greatest last stands in school history that night will never be forgotten.
Your donation will support the student journalists of Sunnyslope High School. Your contribution will allow us to purchase equipment and cover our annual website hosting costs.