Football's Biggest Question: How To Keep Up With Its Players?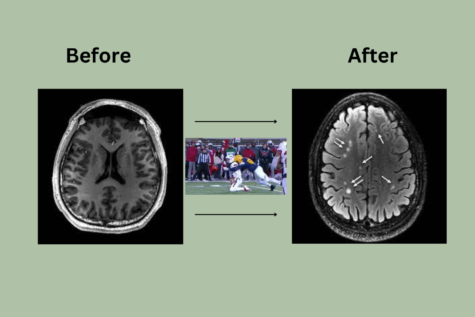 The words, "Pray for Damar" trended American social media as a result of a severe injury that blindsided football fans and soon the entire country. 
It was one of the most looked forward to football games that week with two teams, The Cincinnati Bengals and Buffalo Bills, jockeying for the coveted one seed in the playoffs. 
The game, after jumping out to a fast start with both teams scoring early, soon abruptly stopped. On a normal routine play, Bills' Safety Damar Hamlin made a normally routine tackle- except this time it almost cost him his life. His heart stopped due to the hit, and, if not for a timely, professional response by the Bills athletic staff he could have passed away. 
For the millions at home watching the game, a sense of mortality set in, for they could not believe an athlete in peak physical condition could have such a scary thing occur. 
This caused a new hyper awareness for sports injuries throughout the country.                           
That was all on January 22nd, a seemingly meaningless date for sports, but throughout the past year we have seen many similar dates become very important. 
October 1st: LSU football player Sevyn Banks was stretchered off due to a back injury. 
September 25th: Dolphins Quarterback Tua Tagovailoa remained in the game despite a clear concussion.
September 29th: 4 days later, Tagovailoa got hit once more resulting in him getting knocked unconscious and new protocols put in place. 
December 12th: Patriots Receiver Devante Parker got a concussion mid-game without anyone but a teammate noticing despite these new protocols. 
January 1st: Despite becoming temporarily paralyzed, Tagovailoa played just months later and once again entered concussion protocol.
January 16th: Buccaneers receiver Russel Gage Jr is carted off and later hospitalized due to a head injury at the end of the game. 
With football getting more skilled, and therefore more intense, on all levels of the game, organizations like the AIA, NFL, and NCAA need to better adapt their injury policies to better protect their players from serious injury. 
"Only about 38%-40% of all high schools in the United States have an athletic trainer, so when you think about that, there is only one guy responsible for sometimes multiple sports at once," said Head Athletic Trainer Neil Pulver. 
Even with Sunnyslope being one of the lucky schools, there are still setbacks in our Sports Medicine policies that could cost someone dearly if severely hurt. 
"Our district didnt even require that we have AEDs until 10 years ago… but having access to that is sometimes difficult because say someone in the gym needed it, but it was out on the field with me during one of the games. This is especially difficult because in situations where these are needed because every second counts," said Pulver.
The risk for injury is obvious to those in football, and high school coaches try their best to recognize the situation and run things as safely as possible. 
"You try to do your best to make sure drills and activities we're doing are as safe as humanly possible," said Football Coach Sam Jacobs.
Even with these safe practices in place, head injuries especially still seem to occur at a frequent amount at the highest level of the sport, and it is not necessarily due to the violent nature involved. 
"When you expect a hit, your body becomes rigid allowing the force to travel out of you without injury. Traumatic head injuries occur when you do not expect to get hit because you cannot brace yourself, so you basically have a bobblehead where the force stays in your head causing the injury," said  Neurologist, Dr. Jonathan Lifshitz. 
This was the case with Tagovailoa who sustained 3 concussions on hits he was not braced for, but these scary injuries are not as common as they seem. 
Jacobs said, in 22 years of coaching, he has only ever seen one kid carted off due to a severe upper body injury.
This is in part due to some new improvements we've seen recently, like better helmet technology, which has helped, but there is still plenty of room for innovation.
"Helmet technology is better than it used to be 15 years ago… but it's never gonna be completely guaranteed," said Pulver.
Dr. Lifshitz agreed that better technology has been implemented while also acknowledging the setbacks of concussion detection devices.
"Concussion detecting helmets or mouthguards can assess the surroundings but oftentimes cannot assess the brain accurately because there is so much we do not know."
For medical professionals the difficulty in diagnosing concussions is not limited technology or lack of experience, but actually the unknown in detecting concussions.
"When you see someone with a pinky injury, for example, the person's brain is telling them their pinky is injured. With this considered, someone with a broken brain can't accurately tell the Doctors what is going on, so they have to look for other, less accurate, symptoms like mood swings and vomiting," said Lifshitz. 
While this may sound like a concussion epidemic is occurring, this may not be the case; this uptick in severe upper body injuries may not be what it seems, and the main reasons for them may be quite surprisingly simple. 
"The higher up you go the better, stronger, faster the guys are, so there is a lot more opportunity for catastrophic injury when it's bigger," said Jacobs.
Improvements that protect players need to be implemented in football, and only when this happens will these big injuries begin to become uncommon and less scary. 
"Concussion protocols have improved, yet there is still a lot of room for significant improvement," said Pulver
Finally, it seems that we've been tricked into thinking that football has become more dangerous, but the reality is that football has always been dangerous and is now evolving, so the same needs to happen to policies and regulations designed to maintain football's safety.