The beginning of the fall sports season has quickly approached us and in some cases, it has already begun.
The members of the volleyball, swim, and cross-country programs are getting ready to begin the competition that comes with high school sports, and they will not stop competing until winter rolls around.
Until then here is a preview of these 3 sports, so click on whichever sport you would like to read a little bit about: Swim, Cross Country, Volleyball
Story continues below advertisement
Swim
By: Sam Porell

The Sun is glaring down as the thermometer is filled with red from the rising heat, but then there is a splash and then another and another as the swimmers begin the race. 
Sunnyslope's swim season is about to kick off as the team looks to continue their dominance with yet another district win, the 41st to be exact, but maybe there is more to get accomplished. 
"I'm very confident that we are going to win districts," Senior  Claire Calkins said.
Winning districts would be nothing new, however, as Sunnyslope has put together a streak of 40 district victories.
"We have a good amount of guy swimmers that are fast at their own races," said Senior Preston Kasovac, "Not everyone needs to be fast at every race, though, which is the good thing about swimming."
Swimming is indeed a team sport and the team did lose some important seniors last year, but there is quite a bit of experience returning for this year.  
Kasovac was one of 6 swimmers who were included in the state meet last year and Kasovac said, "It's really neat swimming against people that you know are better than you and of course it makes you try your best."
The experience of making the state meet is a special one and the team is obviously driven by success, however, just like any other sport, there is a family aspect.
"The second we get to the first meet – when everybody's actually together- people start meeting other people," Calkins said, "That's when it starts feeling like a team which is why I'm very excited for the first meet."
Camaraderie is an important aspect of the swim team even though it is one of the larger groups on campus.
"Even though there is a boys team and a girls team were actually just one team," Kasovac said, "We may compete in different things, at different times, or different places but we're one swim team."
This team has a lot to look forward to as well this year as they returning state swimmers: Pierson Reiger and Chloe Jacobs, Tommy Hinks, and Kasovac, and plenty of underclassmen ready to fill the roles of any departing seniors. 
The swim team's first meet is Thursday, August 31st at Cortez Park.
Cross Country
By: Sam Porell

Your alarm is buzzing, you check your phone and it's 4:50 AM and as you tie your shoes and hobble out of the door, you know you will be late.
The Cross Country team is ready to get to competing and have all those early mornings filled with miles finally pay off.
Senior George Diaz, one of only a few seniors, said he is hoping for the team to make state this year and thinks they can get in the top 5. 
This kind of success wouldn't exactly be new to the cross-country program as the past 5 years have seen several successful seasons.
Since he's been at Sunnyslope, Diaz said that the team has been pretty successful and that "every year I've been here we've gotten better as a team, and even though last year we didn't make state I think we got better teamwork since were such a young team."
The team, which consist of 3 seniors, is full of freshman and sophomores who all have different running abilities, but that shouldn't be a huge problem this year.
Coach Jason Coury said, "The core group of juniors and sophomore runners are a little bit higher than they were last year."
As for expectations, there is the hope of making State that comes with every team, but sometimes it's important to just focus on growth.
"I just want them to show up and run every day," said Coury, "Results can take care of themselves."
Having the team be full of underclassmen may seem like an intimidating challenge for a coach to overcome but for Coury, it is nothing unusual.
"In high school athletics you're always looking for the next people to step up and that's what we have right here," Coury said.
Cross country itself is a difficult sport and adding in the Arizona heat never helps, so on top of having a young, growing group of runners the team has to push through a lot to find success.
"I think cross country is gutsy, is pain, is hard work all rolled into one, and I think if you're willing to wake up every day just to train and push yourself to another level of pain then you deserve commendation," said Diaz.
On September 6th the team with have their first chance to pay off all their work at Washington High School in the season's opening meet. 
Volleyball
By: Eva Echeveste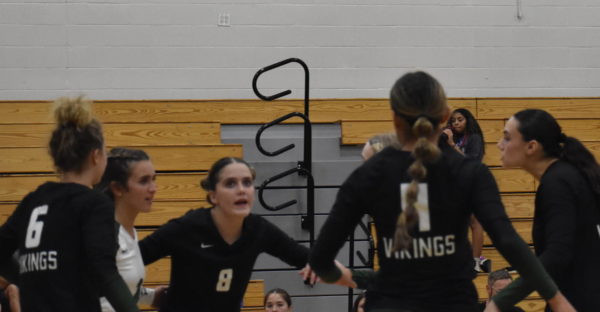 Winning has always been a part of Sunnyslope volleyball's DNA; however, the varsity team lost to the Hamilton Huskies in the quarterfinals last season.
The volleyball season began with a big win over the Huskies during their 'black-out' home opener.
The team has high expectations this year, and beating last year's final opponent was a great sign of what is to come. 
Senior Amelia Shelley said, "I think we did good [last season]; I think we definitely wanted to go farther. But I think overall it was a really good season." 
After that quarterfinal finish last year, the team is looking ahead to what's next.
"I'm looking forward to seeing the growth of this team," said Head Coach Amber Letarte, "They are a talented group that works hard and has so much potential."
This group has added 4 freshmen this year with a lot of potential and the team is led by 5 seniors.
"[They] bring experience, enthusiasm, and kindness," said LeTarte.
As well as experience, these seniors "take on that leadership role and help the new freshman," said Shelley. 
Having multiple leaders on the team will help lead them to further success with a tough 6A schedule up ahead. 
Junior Georgi Stein said, "The competition is tougher but we hope to keep preserving and advancing."
While the team continues to focus on goals for Sunnyslope, already some players have things to be proud of.
Stein has recently committed to continue her volleyball career in college along with Junior Laney Wilson.
"I committed to Northern Arizona University," said Stein, "My parents and grandparents are alumni and I wanted to stay close to home."
With this new opportunity for Stein, there always comes pressure. 
"There is always pressure. I will continue to always work my hardest to be the best I can possibly be," said Stein. 
Being able to handle pressure well is a key component to success for the team this year. 
Another component to success is "To work hard in practice, build on our strengths, and grow in our weaknesses," said LeTarte. 
Weak points for the team are looking to be improved; however, one thing that does stay strong is the fun memories they make throughout the season.
"I always love our annual retreat," said Stein. Another fun memory with the team is, "[their] game against Xavier, it was a packed gym," said Shelley, "And we won after playing them so many times in the past four years."
Even though their season came to a close early last year the team is looking ahead to make it further into playoffs and have already begun this process by winning both games against Hamilton and Gila Ridge. 
The Volleyball team's next game is Thursday, August 31st at home against Chaparral.